The Gaming Handheld Revolution
Since Valve's Steam Deck hit the scene in 2022 and Asus introduced the ROG Ally, the world of handheld gaming PCs has been on fire. Lenovo is now turning up the heat even further with the all-new Legion Go. In this article, we'll break down everything you need to know about this exciting new gaming device.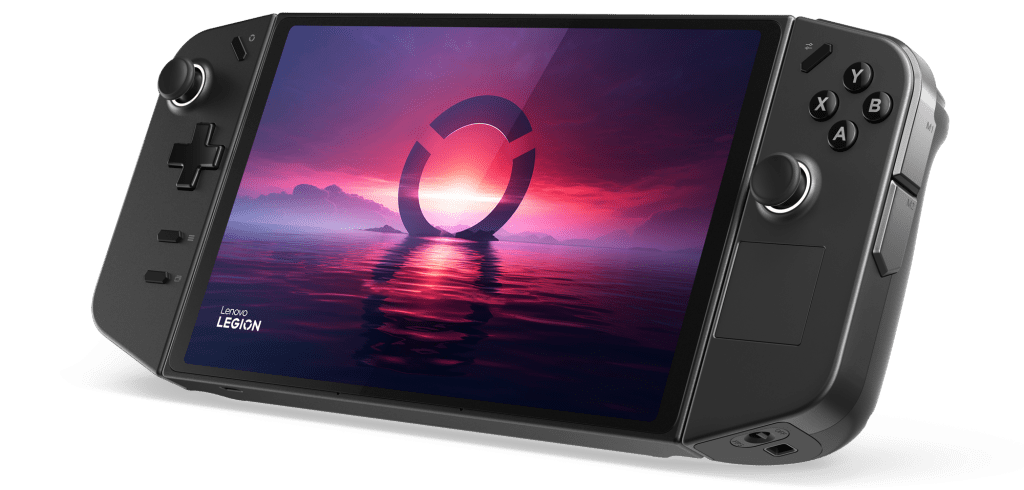 The Lenovo Legion Go was officially announced on September 1, 2023, at IFA and is set to hit the market in October. With a starting price of $700, it's poised to be a strong competitor. While the base configuration details are not entirely clear, it is likely to feature an AMD Ryzen Z1 processor, 16GB of RAM, and 256GB of storage, based on Lenovo's spec sheet. However, Lenovo may initially launch a higher-end Z1 Extreme model before introducing more affordable options, similar to the Asus ROG Ally.
Lenovo Legion Go

CPU

Up to AMD Ryzen Z1 Extreme (8 cores, 16 threads, up to 5.1GHz, 16MB L3 cache)

 

GPU

AMD RDNA 3 Graphics (up to 12 cores)

 

RAM

 

Storage

PCIe 4.0 NVMe M.2 2242 SSD:


 

 

Battery

Main unit: 49.2Whr battery with Super Rapid Charge


65W USB Type-C power adapter

 

Controllers: 900mAh battery

 

Display

8.8-inch IPS, 16:10 aspect ratio, Quad HD+ (2560×1600), 144Hz refresh rate, 97% DCI-P3, 500 nits, touch

 

Controllers

Detachable left and right controllers
Inputs:


Hall effect joystick with RGB in base (Left/Right)
D-Pad (Left)
ABXY button array (Right)
Touchpad (Right)
L/R shoulder buttons
L/R shoulder triggers
View button (Left)
Menu button (Left)
Legion buttons (Left/Right)
4x assignable rear buttons (2 left/2 right)
Optical mouse sensor (Right)
Mouse wheel (Right)
Three mouse buttons (Right, includes one rear button)

 

 

Audio

2x 2W speakers
Dual-array microphone

 

Ports

2x USB4 (one on top, one at the bottom)
3.5mm headphone jack
microSD card reader

 

Connectivity

Wi-Fi 6E 2×2
Bluetooth 5.2

 

Dimensions

Base module:

8.27 x 5.15 x 0.79 inches (210 x 131 x 20mm)

 

Base module with controllers attached:

11.8 x 5.15x 1.61 inches (299 x 131 x 41mm)

 

Weight

Base module:

 

Base module with controllers attached:

 

Operating system

Windows 11 Home

Color

Shadow Black

Price

Starting at $700
Why Lenovo Legion Go Stands Out
Let's dive deeper into what makes the Lenovo Legion Go a standout contender in the world of gaming handhelds.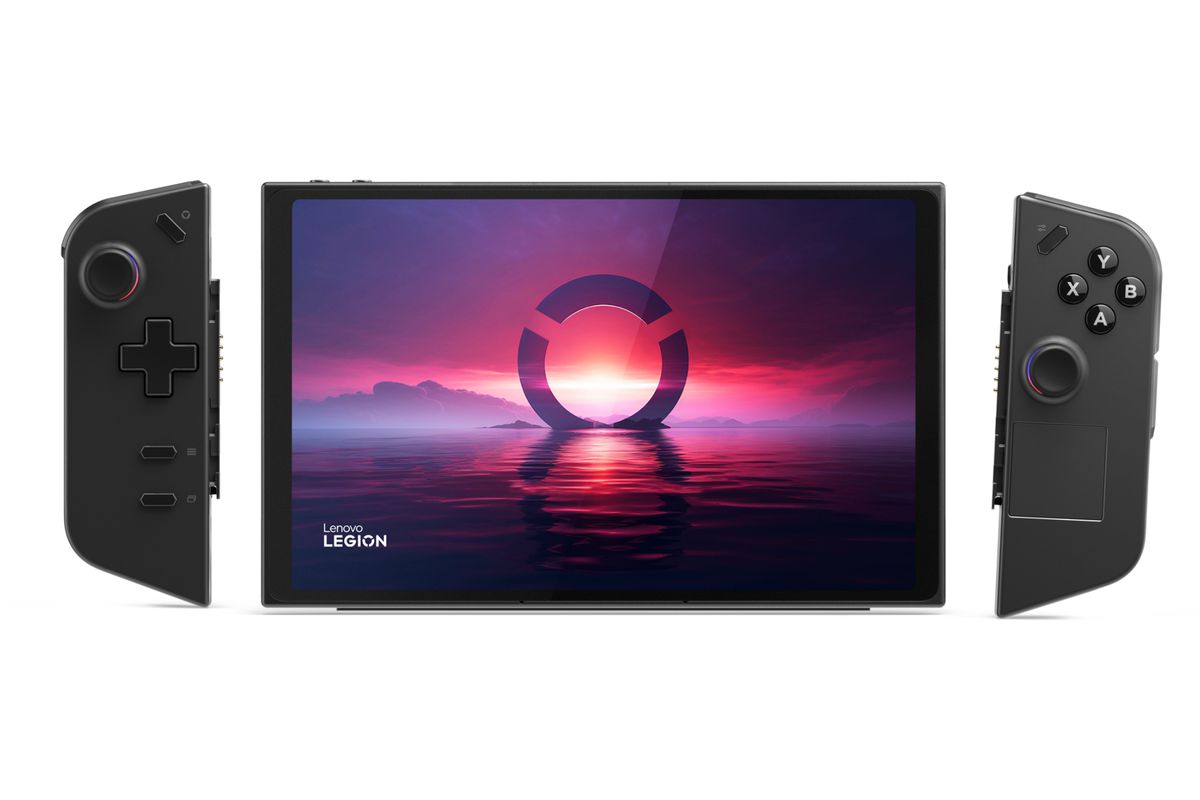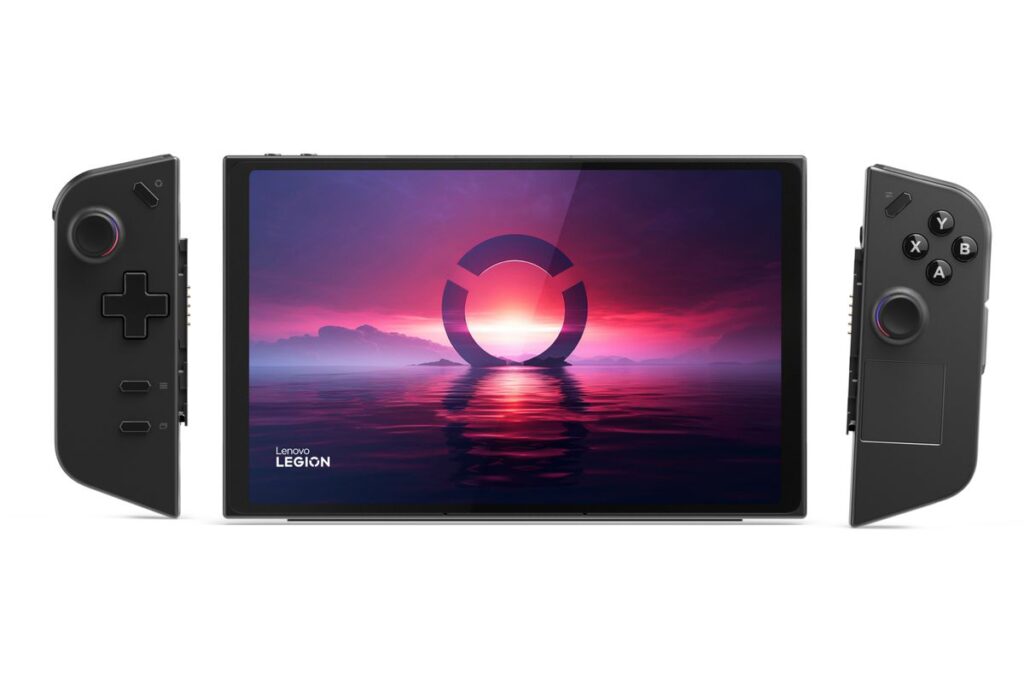 The Legion Go boasts a massive 8.8-inch display, surpassing competitors like the Steam Deck and Asus ROG Ally with their 7-inch screens. This larger screen offers a more immersive gaming experience, especially when playing with detached controllers. Additionally, the display is sharp and vibrant, featuring a Quad HD+ resolution (2560×1600) and a smooth 144Hz refresh rate, ensuring superior visuals and color accuracy, covering an impressive 97% of the DCI-P3 color gamut.
Detachable Controllers for Ultimate Flexibility
Unlike the Steam Deck and Asus ROG Ally, the Legion Go allows you to detach its controllers, giving you the freedom to choose how you want to play your games. The main module includes a kickstand, enabling you to play directly on the device's screen. The controllers have rechargeable batteries that charge while attached, eliminating the need to worry about charging.
The right controller of the Legion Go holds a remarkable secret—an optical mouse sensor on its underside, similar to the Nintendo Switch's right Joy-Con. This sensor transforms the controller into a competitive gaming tool for first-person games. Enabling mouse mode and placing the controller on the included stand allows for precise aiming and shooting, akin to using a traditional mouse.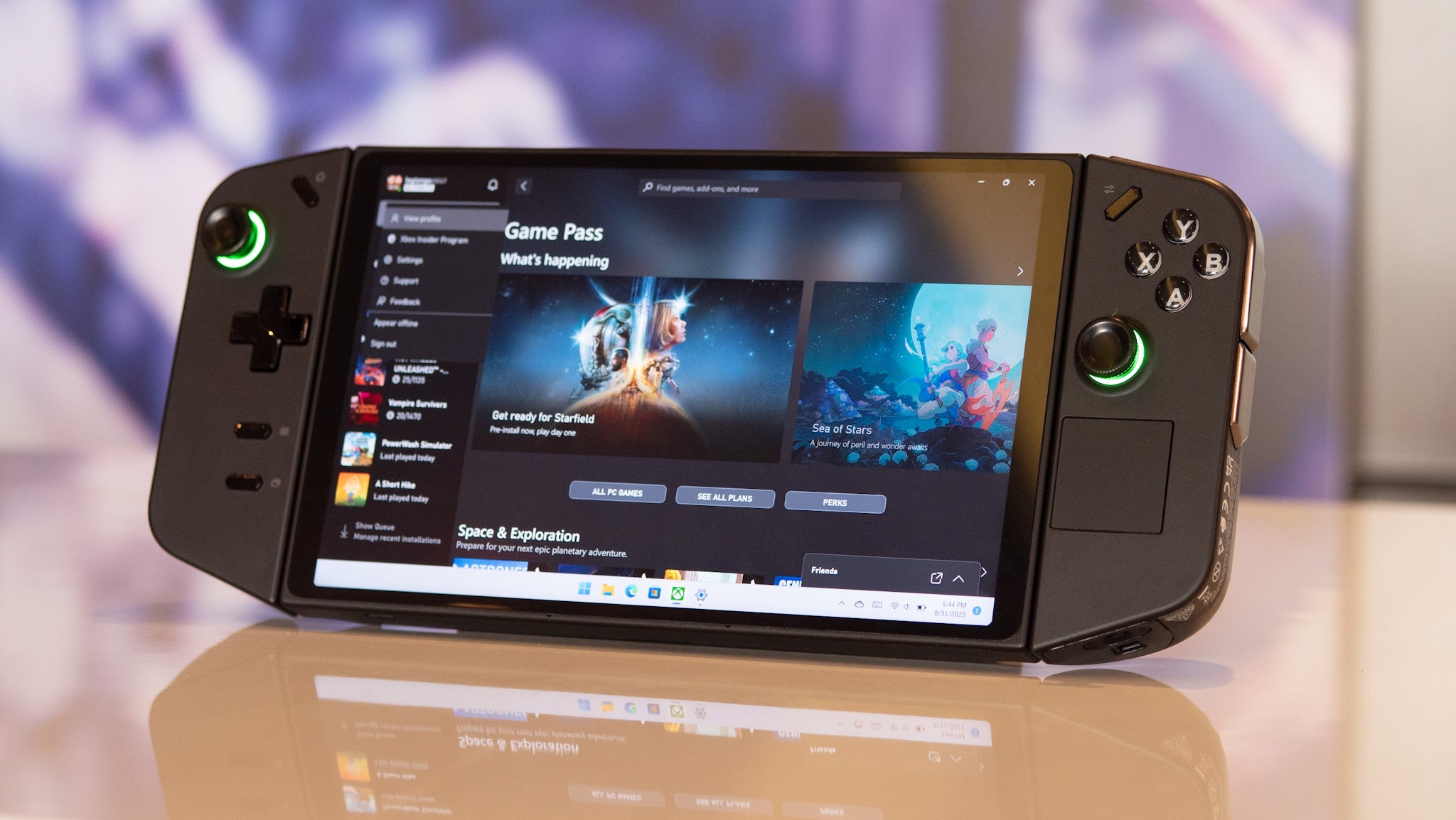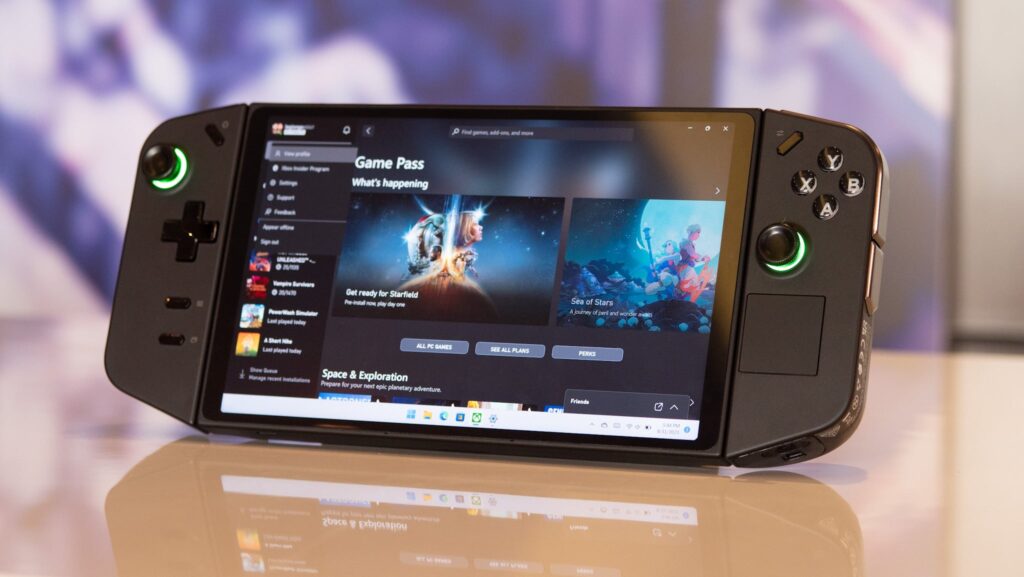 The right controller also features a touchpad for smoother navigation in Windows 11, making tasks easier and more intuitive. Additionally, it includes a mouse wheel on the back for effortless scrolling through pages and lists, enhancing the overall user experience.
Powered by AMD Ryzen Z1 processors, the Legion Go promises excellent gaming performance. While it may not rival a full-fledged gaming laptop, it can handle most modern games with ease, provided you make some graphics adjustments.
One potential drawback is the Legion Go's use of M.2 2242 SSDs, a less common size compared to the M.2 2230 SSDs used by competitors like the Steam Deck and Asus ROG Ally. This may limit your options for storage upgrades in the future, as the best SSDs for the Steam Deck may not be compatible with the Legion Go.
Conclusion: A Compelling Handheld Gaming Option
The Lenovo Legion Go offers an impressive array of features, all starting at the same price point as the Asus ROG Ally. If you're passionate about handheld gaming, keep an eye out for our upcoming review when the Legion Go launches later this year. And if you're already convinced, you can sign up for notifications to be among the first to experience this gaming powerhouse.