One Little Yordle Faces a Gigantic Dilemma
From the creators of the popular game Graveyard Keeper, Lazy Bear, comes an exciting new RPG adventure called "Bandle Tale: A League of Legends Story™." Get ready to dive into this enchanting crafting RPG set in the whimsical realm of Bandle City, the homeland of the adorable yordles.
Bandle Tale: explore Bandle City
Meet a shy yordle who resides in Yarnville, an island immersed in a knitting obsession. After enduring a 101-year-long apprenticeship, all they desire is to explore what lies beyond the portals linking Yarnville to the rest of Bandle City. However, things take a disastrous turn when a party they attend goes haywire, causing the portals to collapse and plunging everything into turmoil!
Discover the World Beyond the Bandlewoods
In "Bandle Tale," prepare to experience a never-before-seen perspective of life beyond the Bandlewoods. Encounter inquisitive creatures, gather materials for crafting, and activate mystical portals as you journey across five captivating new islands.
A thriving life in Bandle City revolves around one thing: fun! Organize festivals to ensure the happiness and entertainment of your fellow yordles. Whether it's cultivating your green thumb and serving farm-to-table dishes to your guests or showcasing your engineering skills by crafting delightful gadgets, the choice is yours.
Forge friendships with colorful characters and enlist the help of League of Legends Champions as you embark on a quest to uncover the mysteries surrounding you and mend your community, one magical stitch at a time.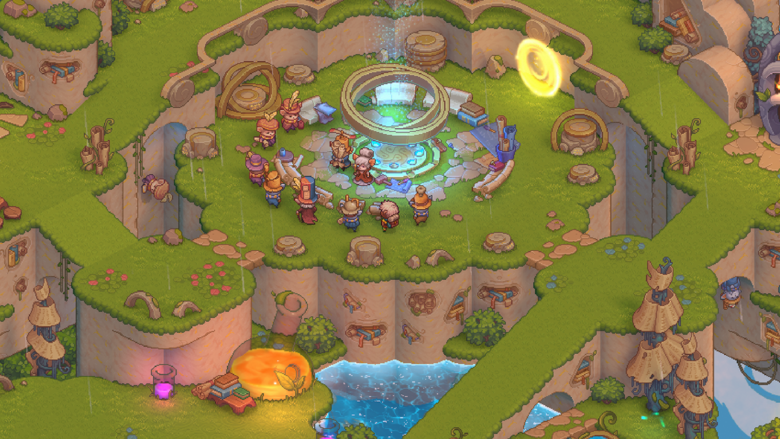 Get ready for a magical adventure in Bandle City, where knitting, festivals, and friendship take center stage. "Bandle Tale: A League of Legends Story" is set to launch in 2024 on both Switch and PC via Steam, GOG, and Epic Games. Don't miss your chance to be part of this charming journey!
Riot Forge was founded in 2019 and is a player- and developer-focused publisher whose mission is to bring the League of Legends universe to new players and platforms by offering "complete" custom games.
Forge is a publishing label within Riot Games that complements Riot's research and development program. Forge is committed to working with experienced studios outside Riot Games, as these games will be created and developed by our partner studios and published by Riot Forge. Each published game will expand the League of Legends universe and allow players to experience League like never before.