With a new Champions 2023 bundle, in-game esports hub, and broadcast drops, we're giving you multiple ways to experience VALORANT's biggest event directly in the game!
Champions is around the corner! Sixteen teams have qualified for the most important event in the history of the VCT and the month to come will be full of opportunities to celebrate and support all the participants!
The Champions 2023 Collection, Esports Hub, and event themed broadcast drops, will offer multiple ways to collect new ways to showcase your fandom. Tune in to matches between August 6 – 26 (see the full schedule at valorantesports.com/schedule) and read on to see all the ways we're celebrating Champions 2023 both in and out of the game.
Champions 2023 Collection
Celebrate Champions 2023 and support your favorite team with this limited edition bundle! The Champions 2023 Collection contains the Champions 2023 Vandal, Kunai, Trophy Card, Buddy, and Spray. From August 4th – 29th (11PM CEST), 50% of net proceeds from the Champions 2023 Collection will go to participating teams. Items won't return to the Store or Night Market.
The Champions themed Vandal is a stunning addition to the game's collection and comes packed with exciting new features. It boasts a unique Top Frag Glow that highlights the top fragger in a match, giving them a well-deserved spotlight. Additionally, the skin comes with a captivating Ace Effect that triggers when a player achieves an ace, amplifying the adrenaline rush of a spectacular play. Additionally the skin evolves with every 3 kills, culminating in an impressive radial effect at 30 kills, making each elimination feel more rewarding and satisfying.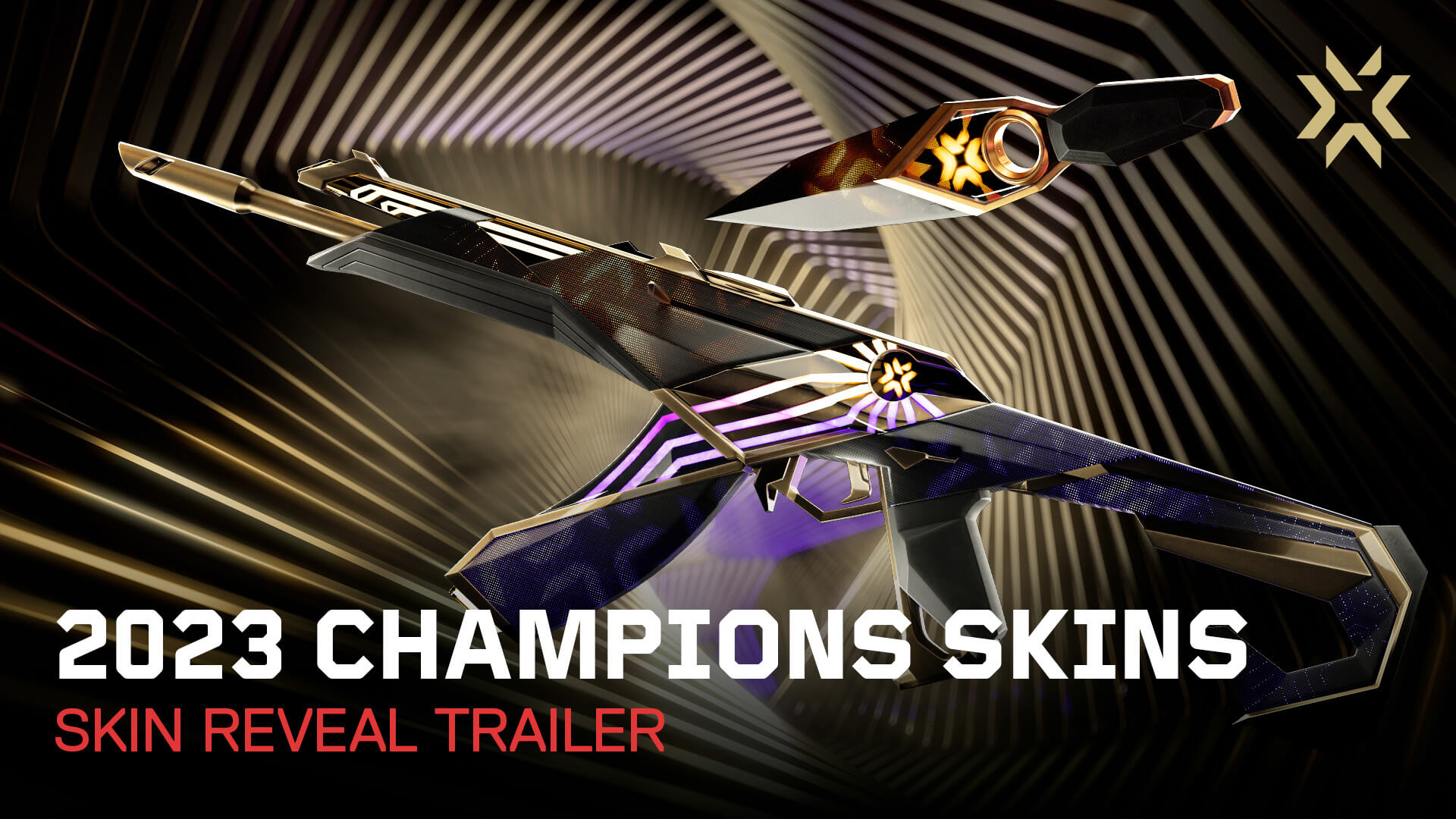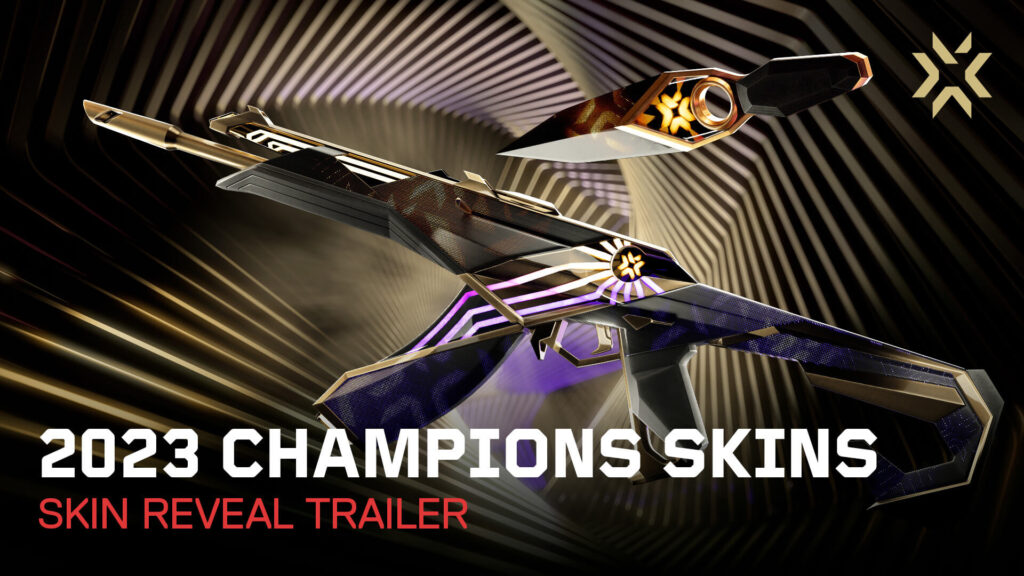 CHAMPIONS Broadcast Drops
It's simple. Connect your VALORANT account with your YouTube or Twitch account, watch a game of VALORANT on channels enabled with drops during the specific time frames below at Champions, and get rewarded. Sound good?
Drops Reward Structure:
"Lowrider" Title

:

Watch a live game between Aug 6 – Aug 13

2023 VCT Champions Gekko Diff Spray:

Watch a live game between Aug 16-25

2023 VCT Champions Lowrider Card:

Watch a live game of Finals on Aug 26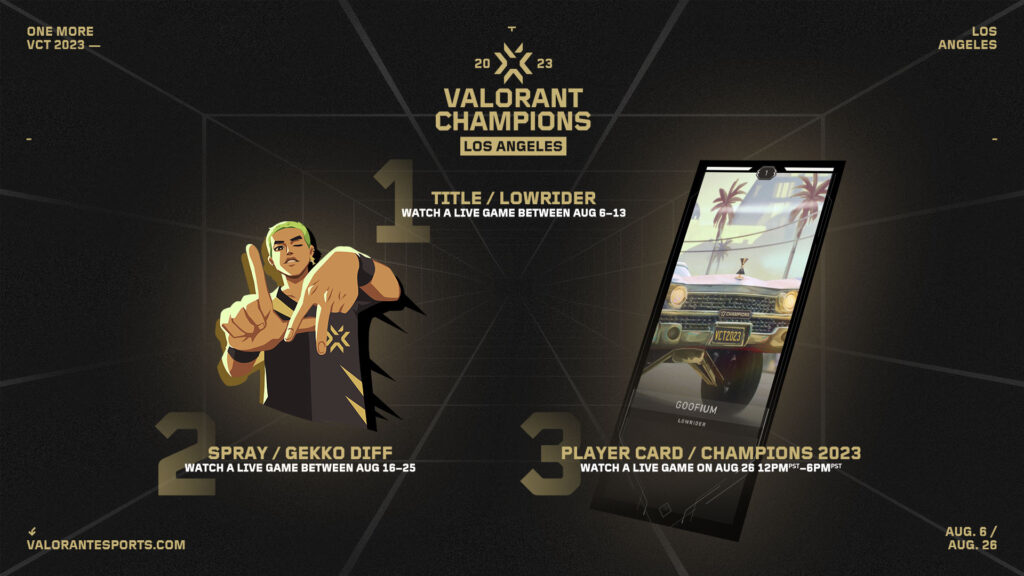 FREE CHAMPIONS EVENT PASS
Claim rewards worthy of a Champion–all you need to do is play. Starting August 4th and lasting until 11PM CEST on August 29th, you can progress through 7 levels of the in-game event pass and earn rewards along the way.
Level 1 – "Happy Octopus" spray
Level 2 – "Tearjerker" Title
Level 3 – 10 Radianite Points
Level 4 – "Champions Squad" Player Card
Level 5 – "One More" Title
Level 6 – 10 Radianite Points
Level 7 – "Octobuddy" Buddy
During the run of Champions, we'll be debuting our all-new esports hub that will provide details and info about the event directly in the VCT Client. Starting on August 1st, be on the lookout for an all new experience in VALORANT that features brackets, schedules, and other helpful information about Champions 2023.
Champions is taking over your VALORANT maps starting on August 4th with some of your favorite locations dressed up in Champions flair.
Thank you for making the first year of the VALORANT Champions tour a massive success. We look forward to closing out the circuit and crowning our second ever World Champion on August 26th. See you there.