Despite the postponement of E3, we were still able to learn highly exciting news and announcements about our favorite games due to the Summer Game Fest 2023, which is only the beginning of a long series of other videogame showcases, including the UBISOFT conference, Capcom, and much more!
Summer Game Fest 2023 event schedule:
Summer Game Fest 2023 event schedule:
Summer Games Fest 2023 started with the Guerrilla Collective showcase and will close its event
with the Capcom showcase next Monday; it's going to be a busy weekend for everyone, Here is
the list of showcases and the time to watch them:
June 9th, Access-Ability, 4PM
June 9th, Tribeca Games, 8PM
June 10th, Wholesome Direct, 5PM
June 10th, Future Games Show, 6PM
June 11th, Xbox + Starfield, 6PM
June 11th, PC Gaming show, 9PM
June 12th, Ubisoft, 6PM
June 12th, Capcom, 11PM
What happened in the opening of summer Game fest 2023?
The game awards show host, Geoff Keighley, organized and hosted an amazing show full of new video game announcements, such as the brutal Mortal Kombat 1, the breathtaking Marvel's Spider-Man 2, the iconic classic games, and many more! If you couldn't watch the shows, do not worry; this article will present you with the latest news. The Video Game Announcements: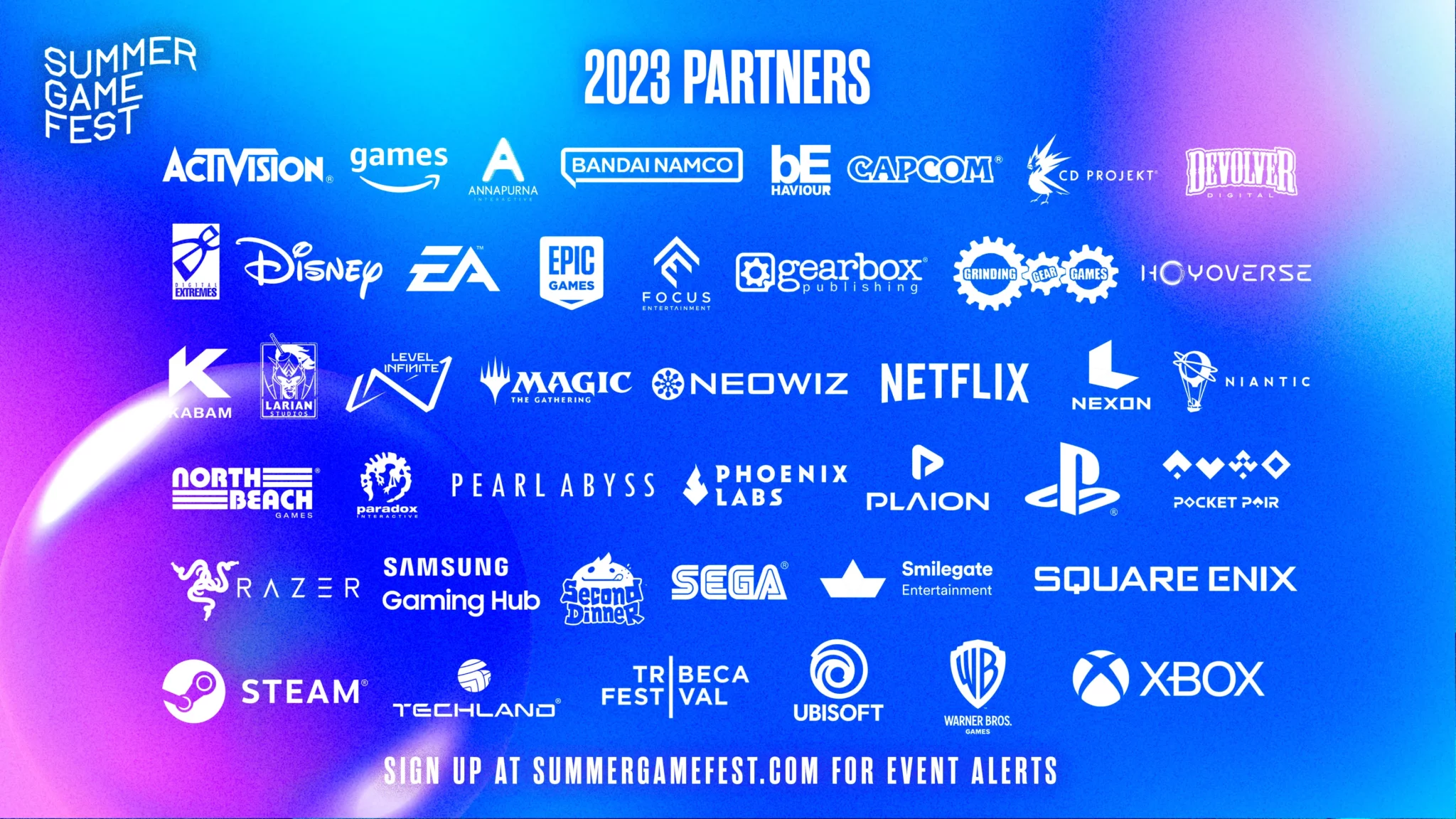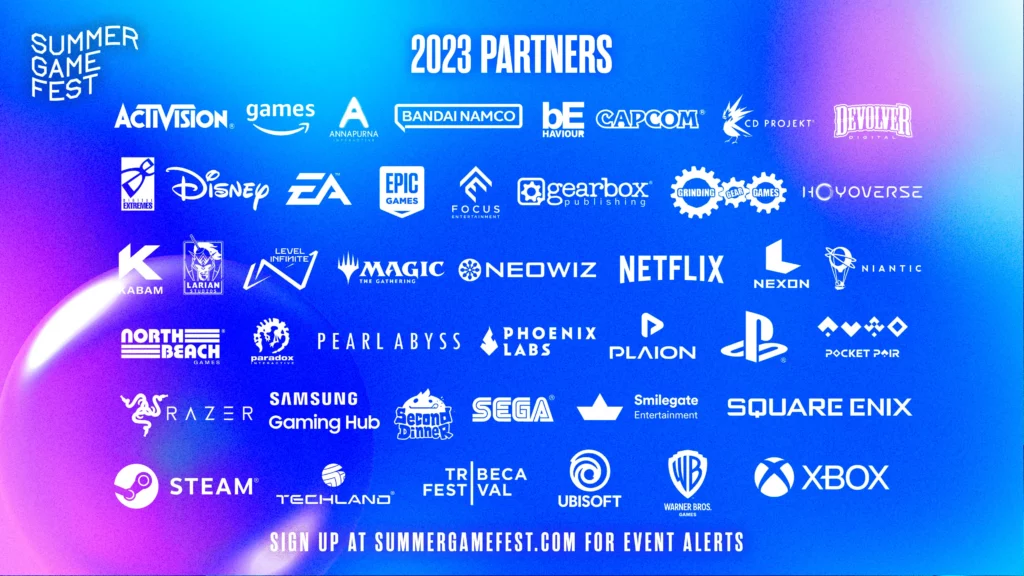 The Video Game Announcements:
Prince of Persia the lost crown:
Ubisoft has answered our wishes and brought our beloved franchise, Prince of Persia, back. We
are not getting the remake just yet, but The Lost Crown is a whole new 2D action-adventure
platformer, developed by Rayman Legends studio Ubisoft Montpellier.
You play a Persian warrior named Sargon, and you explore the cursed region of Mount Qaf in
search of the missing Prince Ghassan.

More news will be revealed during the UBISOFT showcase.
Release Date : January 18, 2024
Platforms : PC / Nintendo Switch / PlayStation 4 / PlayStation 5 / Xbox One /
Xbox Series X|S / Amazon Luna
The gory classic brutal combat game is back, and the creator of the series, Ed Boon himself,
came on stage with Geoff Keighley to present to us what's new in the game.
So far, the game has had a new-era timeline reboot. And the gameplay got even better and
smoother. Not only that, but we also managed our beloved Mortal Kombat characters such as
Johnny Cage, Kung Lao, Liu Kang, Raiden, Sony Blade, Scorpion, and many more!
Release Date: September 19, 2023
Platforms: Nintendo Switch / PlayStation 5 / Windows / Xbox Series X/S
Dead by daylight DLC Nicholas cage :
Who knew that the famous actor Nicholas Cage would be a character himself in a video game?
The actor expressed his love for horror movies, which pushed him to collaborate with Behavior
Interactive. His iconic character will be a playable survivor in an upcoming update on July 25th.
The Witcher Season 3 Netflix series :
The actors of the Witcher series themselves, Henry Cavill (Geralt of Rivia), Anya Chalotra
(Yennefer), and Freya Allan (Ciri), made a video appearance at the event to show the fans
what's waiting for them in the next season of the witcher that is set to be released in two
parts, the first part on June 29, 2023, and the second part on July 27, 2023.
The next season of fortnite :
Fortnite has brought us a new cinematic trailer that includes dinosaurs, Mayan ancient temples in a huge jungle, and of course everyone's beloved Transformers character Optimus Prime. The
new season debuts on June 9th.
Like A Dragon Gaiden: The Man Who Erased His Name :
Yakuza 6 and Yakuza Like a Dragon 8 fans, don't worry. Ryu Ga Gotoku Studio heard your
prayers and has brought you this spin-off to explain what happened to Kazuma Kiryu.
Release date : November 9 th 2023
Platforms: PlayStation 5, Xbox One, PlayStation 4, Microsoft Windows, Xbox
Series X and Series S
The game director, Bryan Intihar himself, came on stage to share the release date of the
PlayStation exclusive, The players can now suit up as Miles and Peter to take down Kraven the
Hunter and Venom.
Release Date : October 20 th 2023
Platforms : Playstation 5
We all know that the Xbox 360's famous horror game Alan Wake was a massive success. After
13 years, we finally managed to get a sequel and a release date as well. Sam Lake, the creative
director of Remedy Entertainment, took the stage by storm to introduce the gameplay reveal of
Alan Wake 2.
Release Date : October 17 th 2023
Platforms : PlayStation 5, Xbox Series X and Series S, Microsoft Windows
SEGA has surprised us with a brand new game from our childhood days, Sonic Superstars. The
2D platformer will include some of our favorite characters besides Sonic; we will have Tails,
Knuckles, and Amy. What makes this game even more special is that it will feature a four-player
co-op! which means you can explore Sonic Adventure with your friends!
Release Date: Fall 2023
Platforms : PlayStation 5, Xbox Series X|S, Nintendo Switch, PlayStation 4, Xbox
One, and PC.
Final Fantasy 7 Rebirth :
Geoff saved the best for last and revealed to us that the rumors were true about our beloved
Japanese RPG game Final Fantasy. Square Enix has been working on a sequel to the FF7 remake,
and in the trailer, we got to see the return of the crew: Aerith, Tifa, and Barret, along with
Cloud, exploring the world and fighting off some enemies together. The game will be available
on 2 discs for physical copies.
Release Date: early 2024
Platforms: Playstation 5
Final Fantasy 7 : Ever Crisis :
Don't worry, mobile gamers! Square Enix has got you covered with its new single-player mobile
game experience. The game focuses on a mix between two timelines of Final Fantasy VII and
the compilation of all the games and stories set in the Final Fantasy VII universe (Crisis Core and
Dirge of Cerberus). Only Android users are scheduled for a closed beta beginning today and
running through June 28, with preregistration opening up soon.
Release Date: 2023
Platforms: Mobile
Banishers: Ghosts of New Eden
Life is strange, developers. Don't Nod managed to get us a ghost-haunting story in an actiondriven RPG where your decisions have life-changing consequences. You can solve haunting cases
and battle enemies using Antea's spiritual power and Red's arsenal.
Release Date: Late 2023
Platforms: PlayStation 5, Microsoft Windows, Xbox Series X and Series S
After the SGF 2023 opening showcase, indie legends Double Fine, the maker of Grim Fandango,
and iam8bit, the creator of Ori and Will of the Wisps, collaborated to make Day of the Devs,
which began in 2012 with the purpose of shining more light on some of the greatest indie
games out there.
Another special event that also aired right after the Summer Game Fest 2023 showcase, this
year's Direct featured new looks at four exciting games: Baby Steps, Human Fall Flat 2, The
Talos Principle 2, and Wizard With a Gun.
Soulsborne fans, fear not! Neowiz Games and Round 8 Studio presented us with a third-person action RPG in which the player controls the humanoid known as Pinocchio in a challenging world. As you all know, Soulsborne games are not for anyone to play but hardcore gamers, so you already know how hard and intense the gameplay will be. What's special about this game is that it features its own morality system called the "Lying System," which can change the outcome of the story you're playing. There are three possible endings you can access, and what's more is that you can play and test out the game demo NOW!
Release Date: 19th September 2023
Platforms: PlayStation 5, PlayStation 4, Xbox One, Xbox Series X and Series S, Microsoft Windows
Other great reveals in SGF 2023 such as Baldur's Gate III, Witchfire, Yes, Your Grace: Snowfall,
John Carpenter's Toxic Commando, Palworld, Stellaris Nexus, Marvel Snap, Sand Land, Under the
Waves, etc.
This opening was only the start of many showcases and live performances coming our way. We
look forward to keeping you updated on the latest news about the upcoming shows, and don't
forget to comment with your thoughts as well!