A Plethora of Technologies for PC Release
Enhanced Gaming Experience with DLSS 3, RTX IO, FSR 2, and More
The PC release of Ratchet & Clank: Rift Apart comes packed with an array of cutting-edge technologies, including NVIDIA DLSS 3, NVIDIA RTX IO, AMD FSR 2, Intel XeSS, Temporal Injection by Insomniac Games, NVIDIA Reflex, and NVIDIA DLAA. While most of these technologies work with all modern graphics cards, they provide additional benefits when paired with NVIDIA RTX GPUs.
Ratchet & Clank: Rift Apart - Now on PC!
DirectStorage Unleashed After Two Years on PS5
After its initial launch on the PS5 in June 2021, Ratchet & Clank: Rift Apart finally arrives on PC today. The game becomes the second title to benefit from DirectStorage technology on PC, following Forspoken.
Recommended Specs for a Fluid Gaming Experience​
Playable Settings for Smooth Performance
To experience the game in 4K, you'll need an RTX 4080 and 32 GB of RAM. However, the recommended configuration is more practical, featuring an Intel Core i5-8400 or AMD Ryzen 5 3600 processor paired with an NVIDIA GeForce RTX 2060 or AMD Radeon RX 5700 GPU, along with 16 GB of RAM.
Technologies Supported - Trailer Unveils Impressive Performance Boosters
DLSS 3, FSR 2, XeSS, and More - Empowering Performance
The game's official trailer, released on May 30, highlights numerous performance-enhancing technologies, including:
NVIDIA DLSS 3
AMD FSR 2
Intel XeSS
Temporal Injection by Insomniac Games
NVIDIA Reflex
NVIDIA DLAA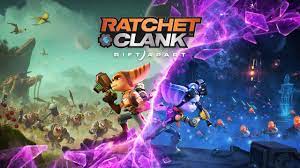 DLSS3 and RTX IO: Unparalleled Performance at Launch, Ray Tracing Off for AMD GPUs
NVIDIA Technologies Set the Stage for Exceptional Performance
NVIDIA's DLSS 3 technology delivers significant performance gains in Ratchet & Clank: Rift Apart, as demonstrated in the trailer with twice the image refresh rate. The game can now be played on PC with remarkably high frame rates, surpassing what's possible on the PlayStation 5.
Rift Apart is limited to 30 FPS in quality mode, 60 FPS in performance mode, and 40 FPS in hybrid mode (for 120Hz displays) on the PS5. However, PCs with compatible hardware can achieve much higher refresh rates. NVIDIA claims that with a GeForce RTX 4080 or 4090 GPU, players can enjoy gameplay at over 140 FPS in 4K, with all ray tracing effects and settings maxed out. It's essential to approach these figures with caution, as they come directly from NVIDIA. It's worth noting that AMD GPUs may experience lower performance as they cannot benefit from DLSS 3 but rather use FSR 2, AMD's technology comparable to DLSS 2.
NVIDIA Reflex and RTX IO: Elevating Gameplay Experience
Reduced Latency and Ultra-Fast Loading
NVIDIA Reflex reduces system latency by half in Ratchet & Clank: Rift Apart, resulting in faster and more responsive gameplay.
The new NVIDIA RTX IO technology, working in conjunction with Microsoft's DirectStorage API, accelerates storage and GPU-based loading, leading to lightning-fast loading times and significantly improved fluidity. While compatible with all modern graphics cards, RTX GPUs enjoy extra benefits due to their advanced architecture and dedicated decompression engine.
Ray Tracing Disabled for AMD GPUs at Launch
Developer's Efforts to Enable Ray Tracing for Radeon GPUs
Upon the game's release, ray tracing technologies were disabled for AMD graphics cards. However, development teams are actively working on enabling ray tracing support for Radeon GPUs as soon as possible.