Leaked Multiplayer Gameplay of Call of Duty: Modern Warfare 3
As anticipation builds for the upcoming beta this weekend, multiple leaked videos of Call of Duty: Modern Warfare 3's gameplay have surfaced on the internet.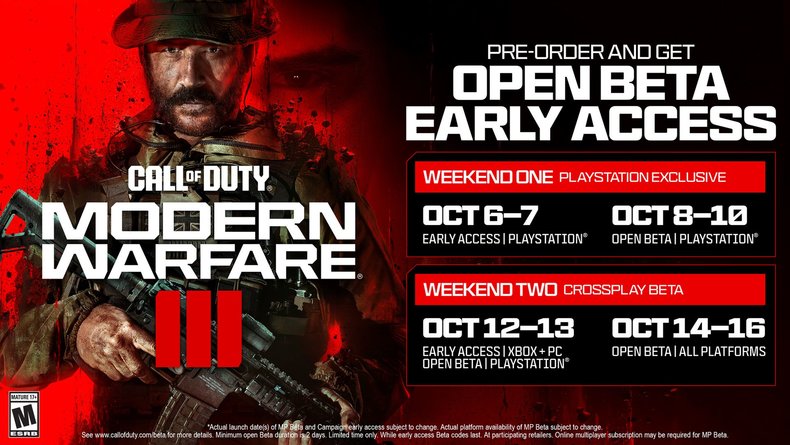 Modern Warfare 3 - Beta Sneak Peek:
Players Dive into the Beta
In these leaked videos, gamers are already diving into the Call of Duty: Modern Warfare III beta. The footage showcases gameplay on remastered maps from Call of Duty: Modern Warfare 2, which will be featured in both the final game and the beta.
Among the highlights are five revamped maps, including fan favorites like Favela, Skidrow, and Rust, all bathed in a fresh new light to delight fans.
Modern Warfare 3 - Beta Schedule:
he game's first closed beta kicks off this weekend exclusively for PlayStation players. Xbox gamers, on the other hand, will need to hold on until the open beta, scheduled for October 14th to 16th.
For those who pre-order the game, early access awaits from October 12th to 14th. Various editions are available, with Carrefour offering the standard version at the best price in our region.
Call of Duty: Modern Warfare 3 Official Presentation at 6 PM:
Don't forget, the official game presentation airs tonight at 6 PM French time. The event will unveil the multiplayer mode and the zombies mode of the upcoming Call of Duty Next:
In collaboration with the Call of Duty development team and community members, Call of Duty: Next promises to be a showcase of Modern Warfare III's multiplayer mode. It will also provide insights into Call of Duty: Warzone updates and a livestream sharing mobile Call of Duty experiences.
Expect news about the future of Warzone and Warzone Mobile, alongside gameplay sessions featuring prominent streamers during this event.
Mark Your Calendar for November 10, 2023
Remember, Call of Duty: Modern Warfare III is set to launch on November 10, 2023, for Xbox Series X|S, PS5, and PC.