Champions, the ultimate event of the 2023 VALORANT Champions Tour, marks the pinnacle of the competitive VALORANT season.
Throughout the year, elite teams from across the globe fiercely competed in their respective International Leagues and Regional Qualifiers, vying for one of the coveted sixteen spots at this prestigious international tournament.
From August 6 to 26, these qualified teams will gather in Los Angeles, where they will battle it out for the Champions trophy and the esteemed title of VALORANT World Champion!
Are you eager to be a part of this thrilling event? Wondering how to attend, celebrate outside the venues, or participate remotely? Discover all the exciting ways you can celebrate Champions below.
HOW TO JOIN THE CHAMPIONS CELEBRATION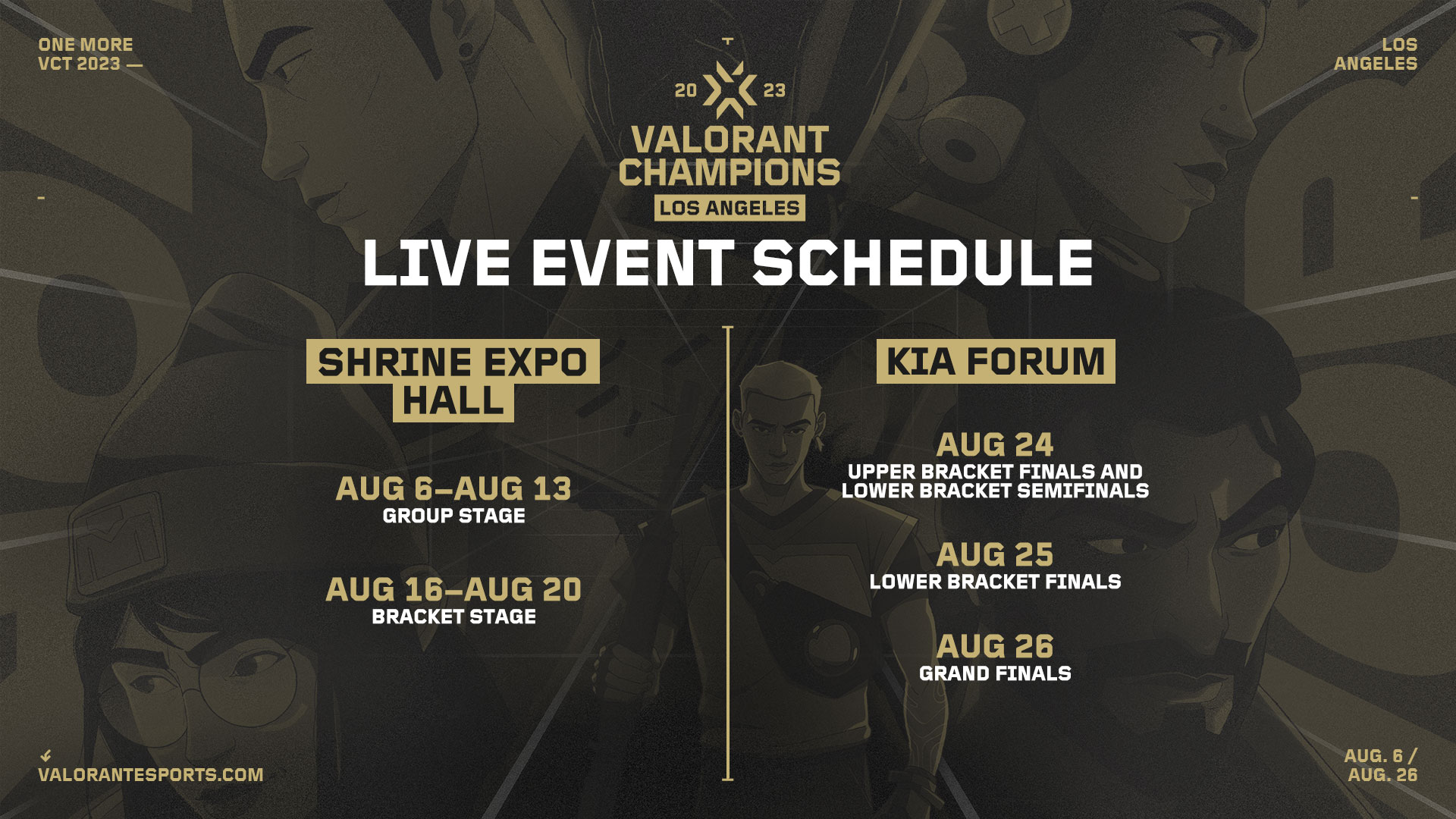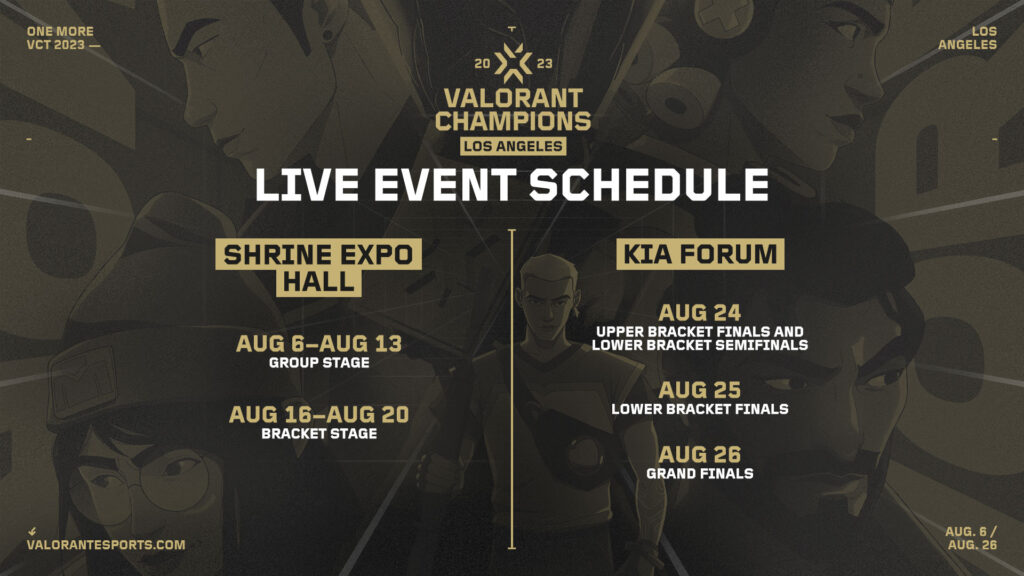 Champions represents the first global event of the VALORANT Champions Tour that will take place in North America. If you want to attend and experience the action in person, tickets are available on the AXS and TicketMaster websites!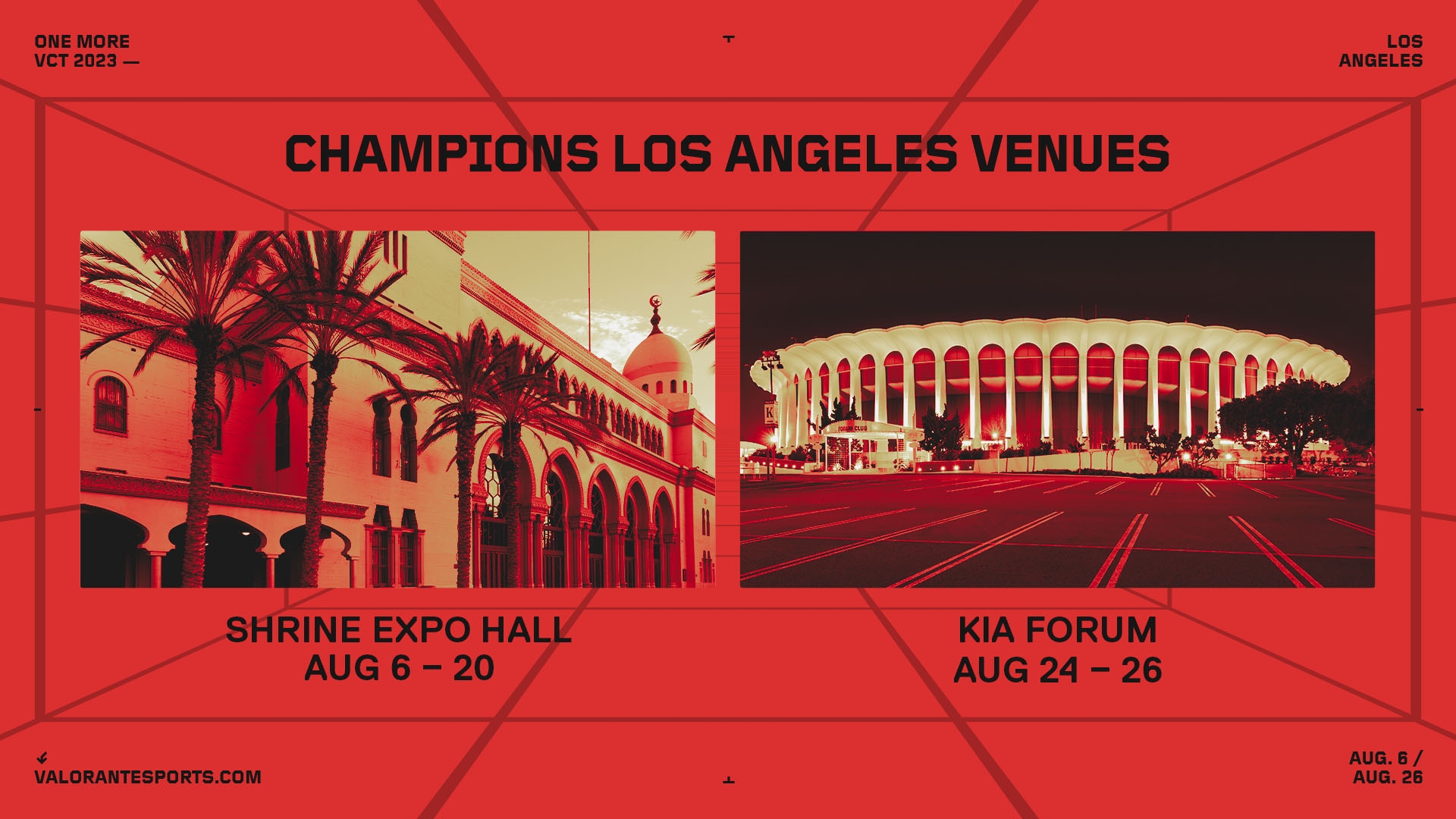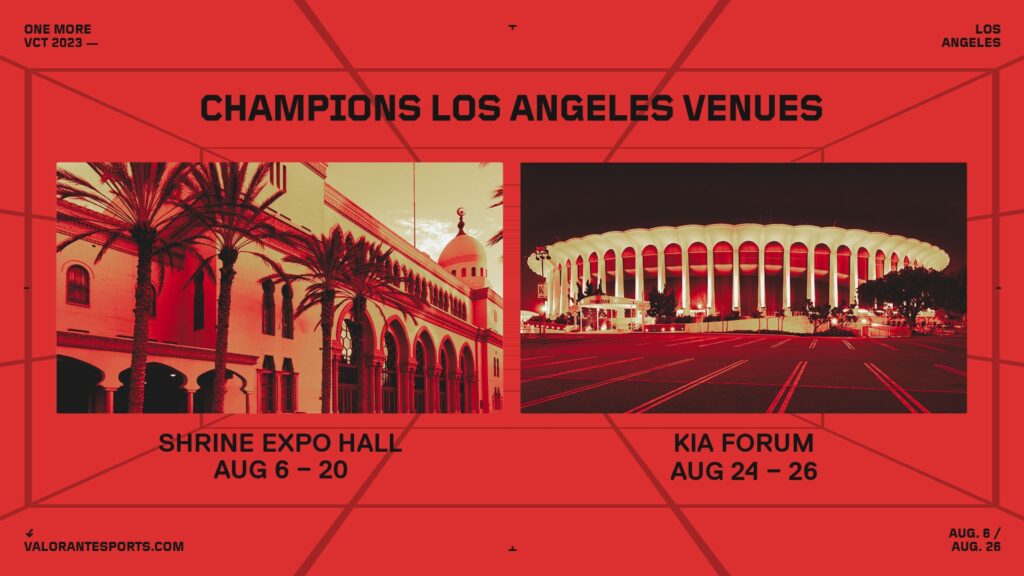 EXPERIENCE CHAMPIONS IN LOS ANGELES THROUGH VALORANT POP-UPS
In addition to the main competition, a wide variety of VALORANT events will be taking place in and around Los Angeles during August. Make sure to mark your calendars and stop by the locations below:
VALORANT will set up shop and create temporary pop up locations all around Los Angeles in August. Plan to stop by for an immersive VALORANT experience during the dates below:
Aug 13: The Row, DTLA
Aug 17: Giant Robot, Sawtelle
Aug 22: Love Hour, Koreatown
Aug 24–26: The Forum, Fan Fest, Inglewood (Finals ticket required for entry to Fan Fest)
For more information on what to expect, keep your eyes on our social and community VALORANT channels. We'll be dropping a few clues early on select channels before the full reveal; we're confident you'll see a few hints as to the fun to come. Not to worry, nothing stays hidden from you. Nothing.

CHAMPIONS FAN FEST AT THE KIA FORUM


Warmup before matches begin by joining the VALORANT Champions Fan Fest – a celebration of VALORANT, VCT, and most importantly, YOU – all included with any ticket purchased for the final three days of Champions at the KIA FORUM. Fan Fest will be open between 5-8PM CEST every day of Finals Weekend, right outside the KIA Forum. (p.s. not sure if you should show up? We've got something special planned. Keep an eye on our socials for more details.)
THE PATH TO CHAMPIONS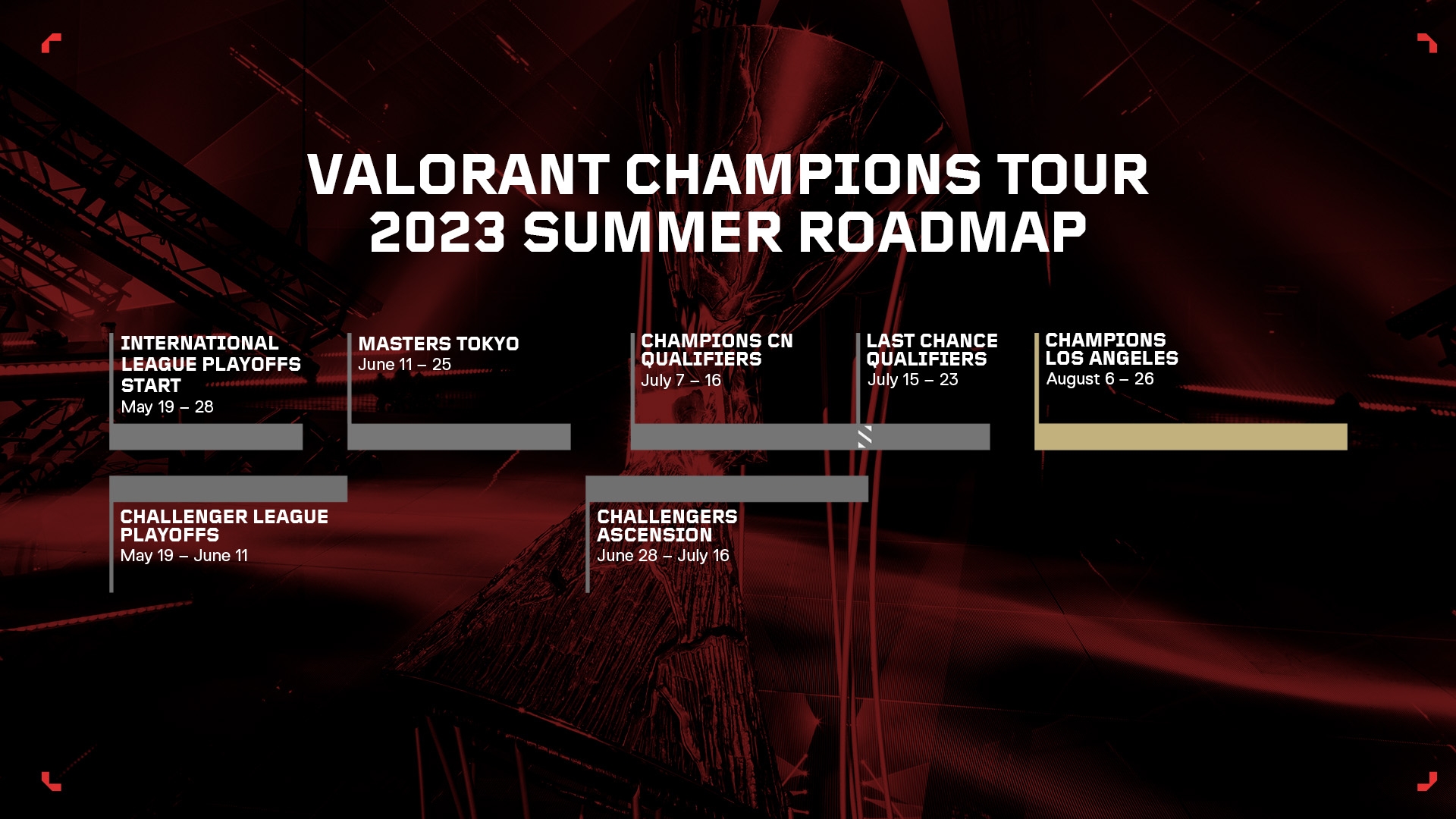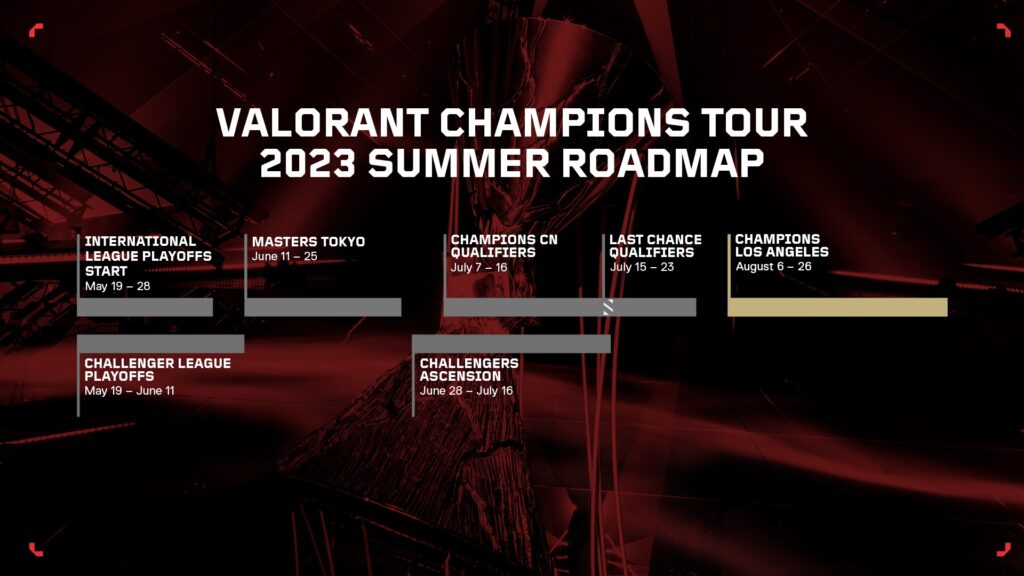 Throughout the past year, the best teams in the world competed across International Leagues, Global Events, and Regional Tournaments to secure qualification for the most prestigious event of the VALORANT Champions Tour.
Nine teams qualified directly into Champions by finishing the top 3 within their respective International Leagues.
Four more teams earned an invitation through three Last Chance Qualifiers hosted by the ILs. Each LCQ qualified one team, with the exception of VCT EMEA who earned the right to qualify two teams as a result of FNATIC winning Masters Tokyo.
Finally, three team representatives from China were selected for Champions based on their strong performance at regional tournaments.
Qualified teams to Champions Los Angeles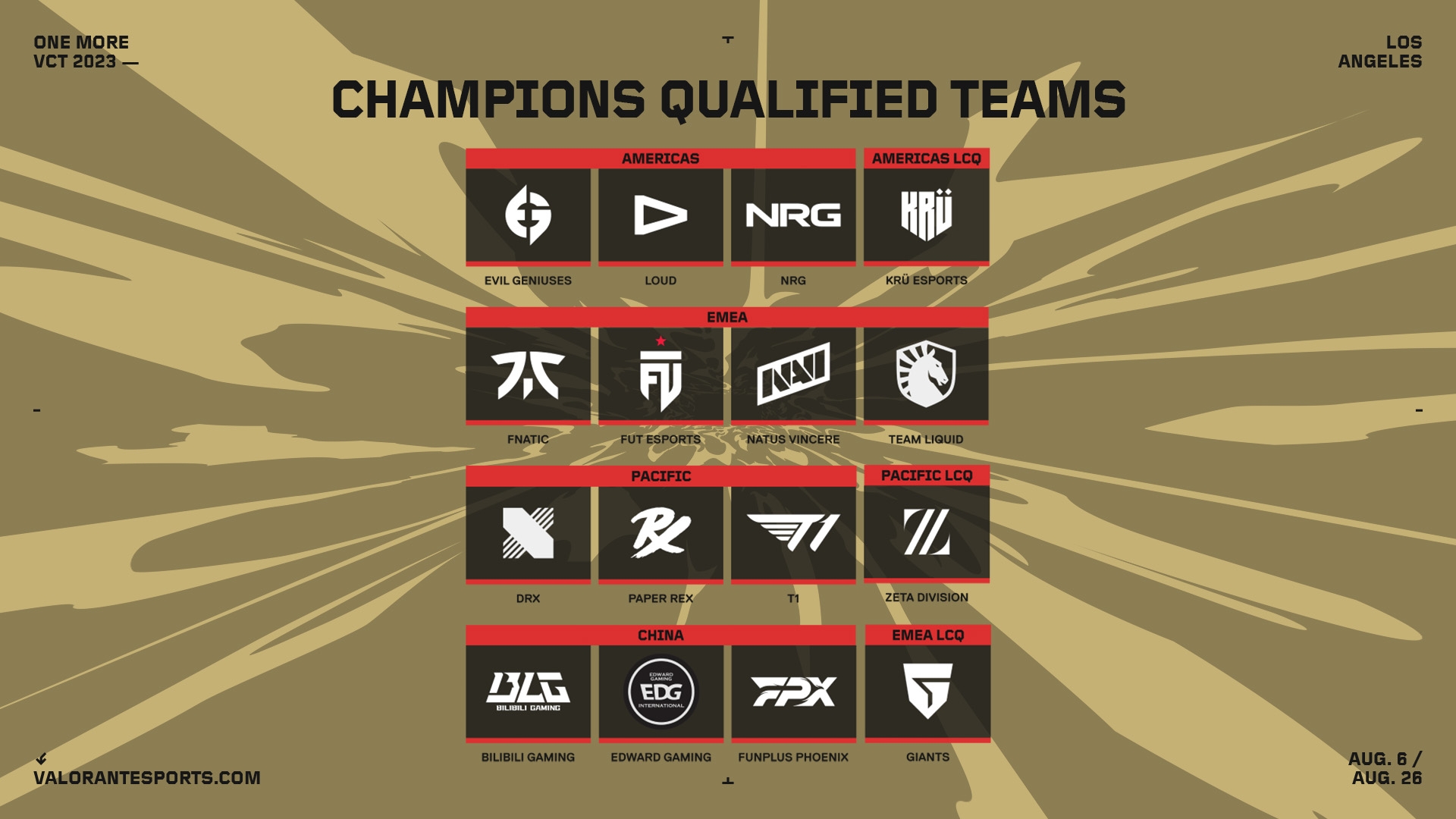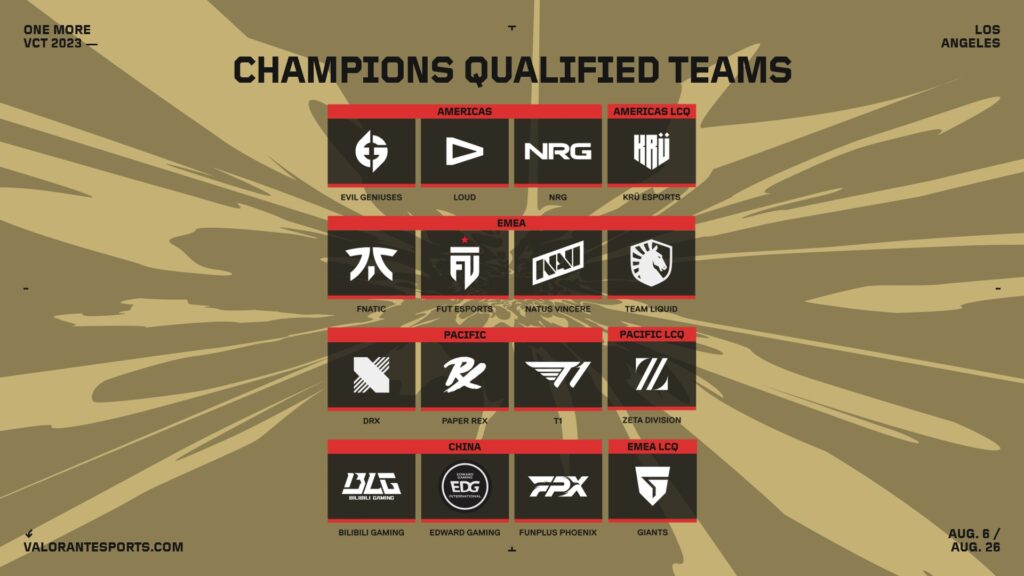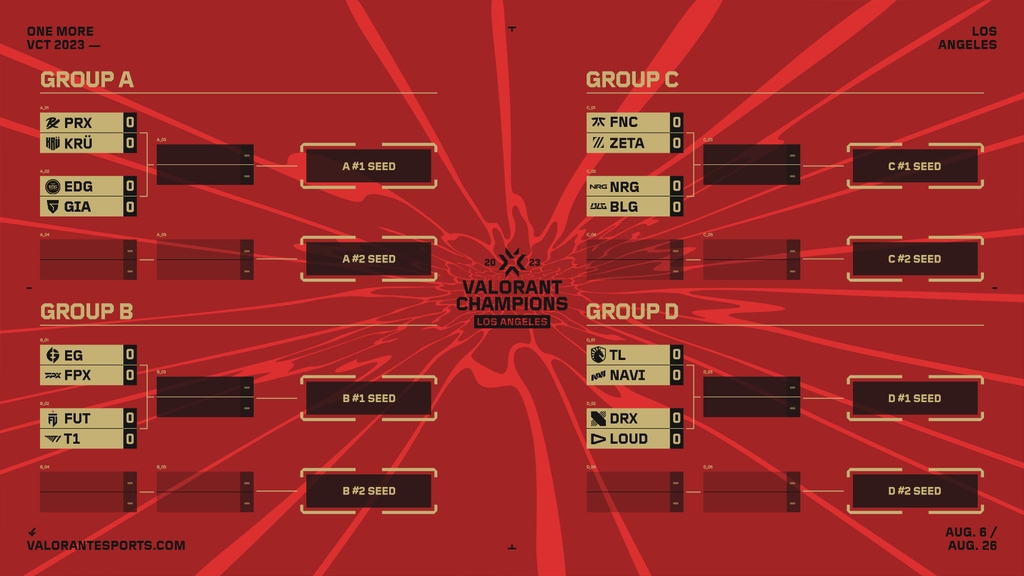 Champions will begin with the Group Stage followed by a double elimination Bracket Stage.
Qualified teams were sorted into four random groups. Each Group will play through a 4-team double elimination bracket, with two teams emerging from each of the four groups.
Those eight teams will then be randomly placed into a double elimination bracket, with teams from the same group being placed on opposite sides of the bracket. Teams will play through each round of the bracket until a single team remains, earning the title of the VALORANT World Champion.
CHAMPIONS IN-GAME EXPERIENCE
From the stage to the game, VALORANT will receive exclusive Champions in-game items as drops between August 4 – 28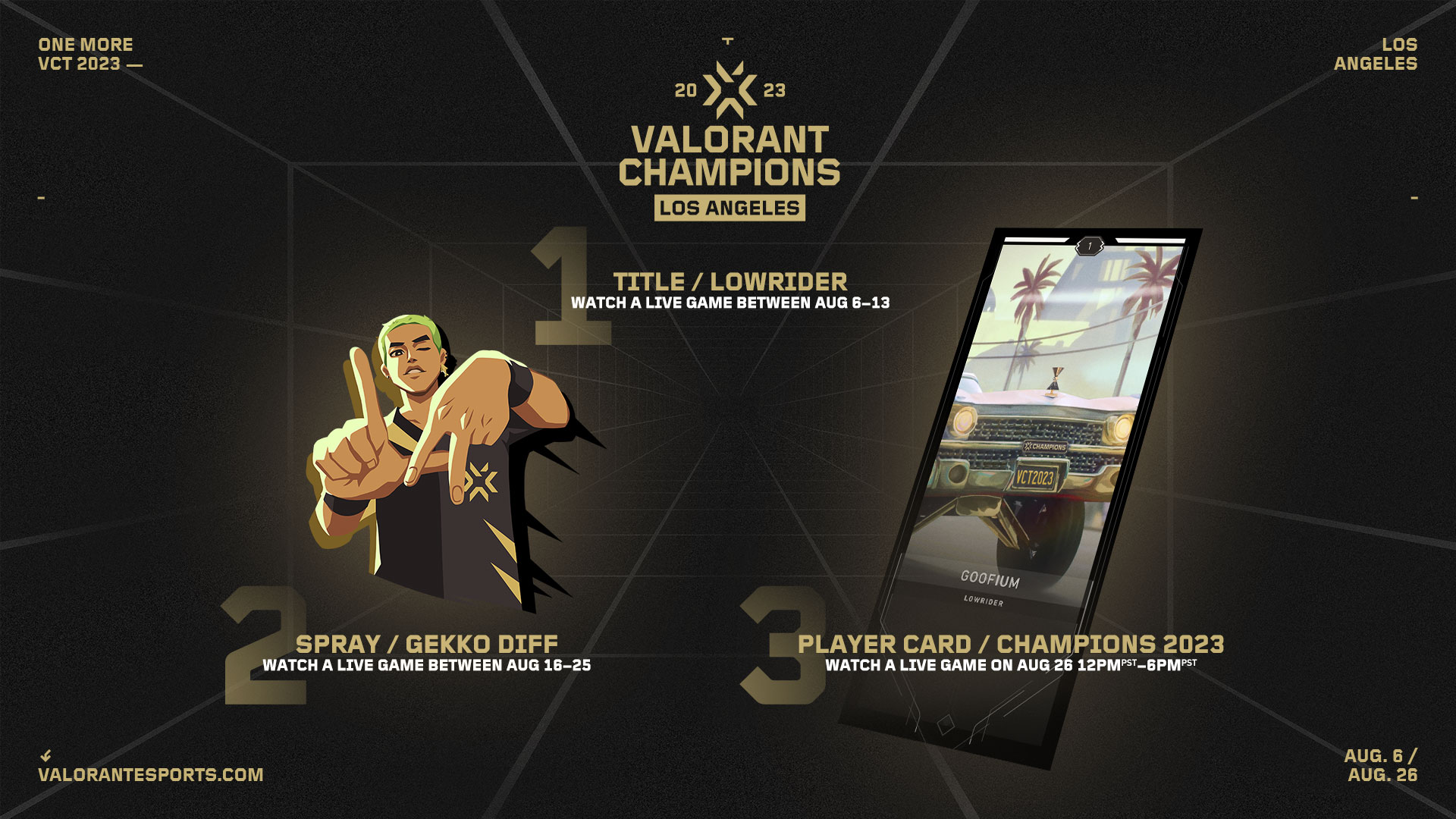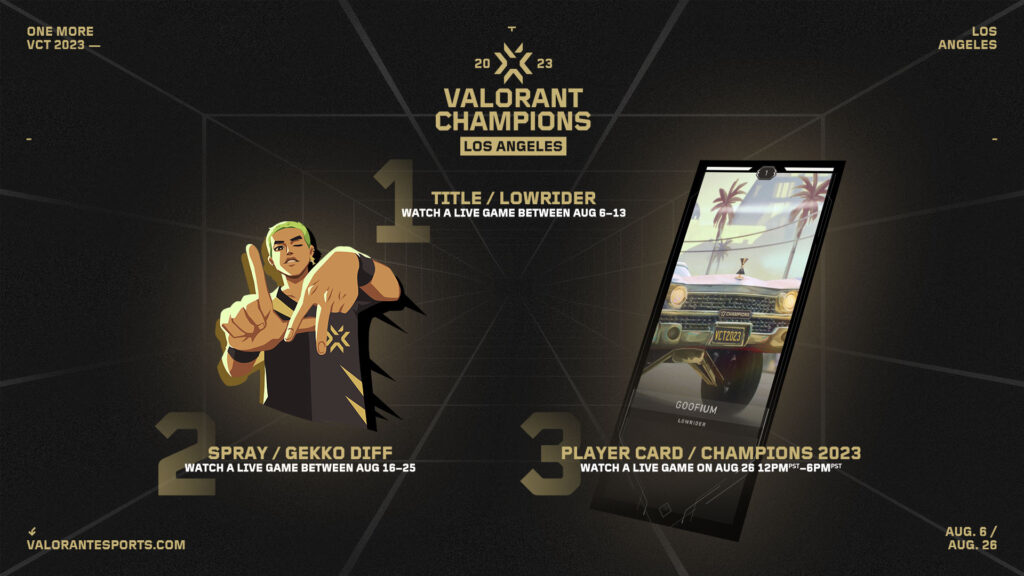 Title: Lowrider
Watch a live game between Aug 6–13
Spray: Gekko Diff
Watch a live game between Aug 16–25
Player Card: Champions 2023
Watch a live game on Aug 26 9PM CEST–Aug 27 3AM CEST
Champions In your Maps
To celebrate Champions, we've placed references to Champions in various areas of each Map – see if you can spot them all!

Esports In-Client Hub
We're making it easy to get all your VCT info without leaving the VALORANT client. Experience champions directly on the game!
Event Pass
Stay tuned for more information on the Champions Event Pass
Champions Collection
Coming soon!
HOW TO WATCH CHAMPIONS
The event kicks off on August 6 at 9PM CEST and the full live event schedule can be found below.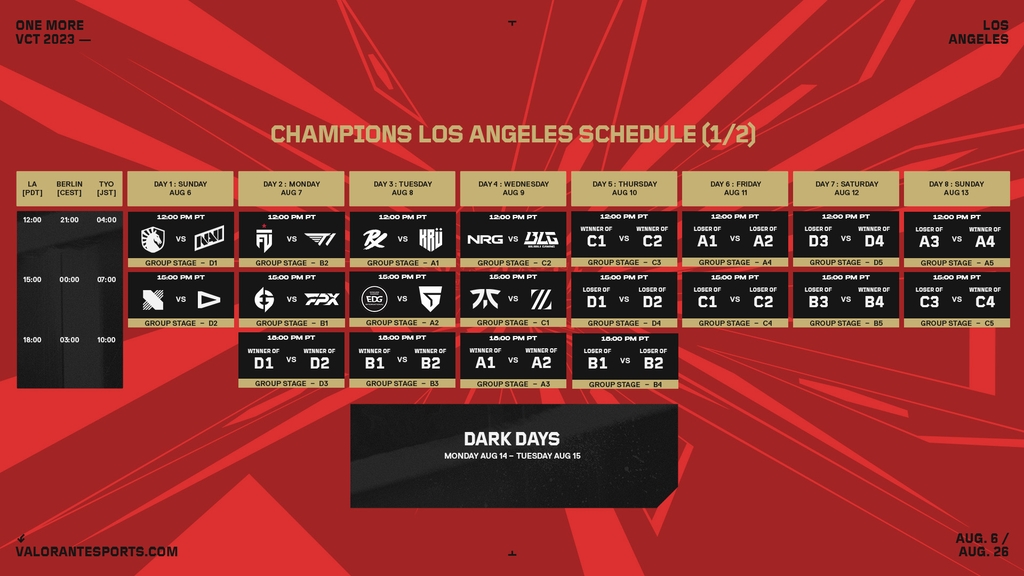 Live Event Schedule:
Group Stage
Bracket Stage
Upper Bracket Finals and Lower Bracket Semifinals
Lower Bracket Finals
Grand Final
The tournament will be broadcast in multiple languages with the full list of channels and Watch Parties shared in the coming weeks across social channels. Viewers will have the opportunity to earn in-game rewards throughout the tournament. Keep checking this site for the most up-to-date information on matches and bracket details.
Where to Watch:
WHERE TO FOLLOW THE VCT
Make sure to follow the official VALORANT Esports social channels for additional information on Drops, Watch Parties, and more info about Champions LA: