Epic Games Store Continues Its Free Game deals: Two Exciting Titles Unveiled This Week!
As a cherished tradition, every Thursday, Epic Games grants its users a delightful treat – free games! For avid gamers looking to expand their collection, this weekly event is an opportunity not to be missed. Just last week, the platform delighted fans with Homeworld Remastered Collection and Severed Steel.
And today, brace yourselves for another round of epic giveaways! Epic Games Store is presenting two new freebies, featuring an exhilarating tower defense game and an intriguing card game. Don't let this chance slip away – head to the store now and claim your fantastic gifts!
Exciting Arrival on Epic Games: Two New Games This Week!
As Epic Games Store's Summer Sale Nears Its End on Thursday, August 3rd, the Platform Keeps the Freebies Coming! Don't Miss Your Chance to Grab Homeworld Remastered Collection and Severed Steel, and Get Ready for Two New Free Games: Bloons TD 6 and Loop Hero!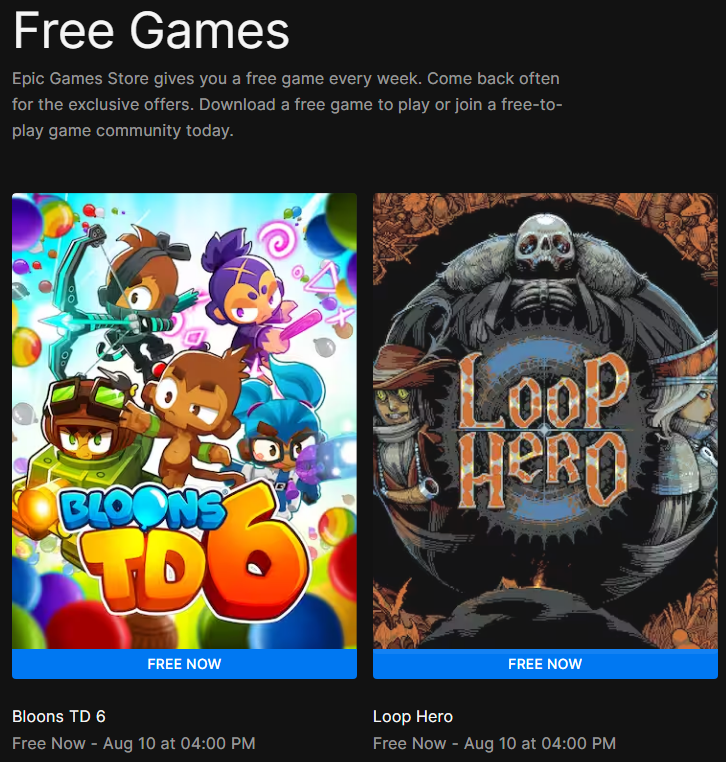 Colorful Tower Defense Delight: Bloons TD 6 Returns as a Freebie on Epic Games Store – Everything You Need to Know!
Ninja Kiwi's popular tower defense game, Bloons TD 6, originally released in 2018, is making a triumphant return as a free offering on the Epic Games Store. While some users may have encountered it before, this is the perfect chance for those who missed out to get their hands on this vibrant and content-rich title.
In Bloons TD 6, players will embark on a thrilling adventure, commanding an army of monkeys to face waves of bloons. With an array of unlockable content and various game modes, the quest to build the perfect defense promises endless excitement. Players can strategically combine different monkey towers and even enlist the help of 14 unique heroes to secure victory.
Don't let this opportunity slip away! Join in the bloon-bursting fun and put your tactical skills to the test in Bloons TD 6.
Addictive Gameplay Awaits: Bloons TD 6 Now Available on Epic Games Store for Solo and Multiplayer Action!
Prepare to be hooked! The captivating title, Bloons TD 6, is hitting the shelves of the Epic Games Store starting this Thursday, August 3rd, at 5 PM and will remain accessible until August 10th, 5 PM. Brace yourself for hours of gaming pleasure, as this tower defense gem offers both solo and multiplayer modes.
Get ready to immerse yourself in the Bloons TD 6 universe, where strategic prowess meets endless fun. Don't miss out on this limited-time offer – dive in now!
Discover the World of Endless Looping Chaos in This Epic Card Game Offered by Four Quarters Studio!
As the second free game from Epic this week, this card game developed by the Russian studio, Four Quarters, plunges players into a time-looped world engulfed in chaos. Your mission: rebuild the shattered planet and fight for survival. To succeed, strategic card placement is key as you navigate through treacherous obstacles.
Prepare for an adrenaline-fueled challenge as you tackle this thrilling card-based adventure! Don't miss out on the chance to immerse yourself in the chaos and excitement of this captivating title.
Embark on an Unconventional Adventure: Loop Hero, the Critically Acclaimed 2021 Game, Now Up for Grabs!
Get ready to be pleasantly surprised! In Loop Hero, your character takes the reins, moving autonomously from a top-down perspective. Released in 2021, this game offers a unique blend of rogue-like and deck-building mechanics, making it a refreshing experience in the gaming world.
Its innovative loop/loot system has earned Loop Hero widespread critical acclaim, and its success has been nothing short of remarkable. Don't miss out on the opportunity to delve into this exceptional title this week!
Loop Hero is available on the Epic Games Store starting Thursday, August 3rd, at 5 PM, until August 10th, 5 PM. Be sure to grab your chance and embark on this mesmerizing journey!
The free game of next week on Epic Games
Exciting News: Upcoming Free Game on Epic Games Store Leaked – Europa Universalis 4 Revealed!
Attention gamers, you won't have to wait long to discover the next free game on the Epic Games Store! The title has just been leaked, and it's none other than Europa Universalis 4, a masterpiece created by Paradox.
In this captivating game, players will take on the role of controlling a nation across several centuries, from the pre-Renaissance era to the age of revolutions. Immerse yourself in the grandeur of history as you steer your nation through the changing tides of time.
Mark your calendars, as Europa Universalis 4 will be up for grabs from August 10th to August 17th, 2023. Don't miss this fantastic opportunity to delve into an epic journey of strategy and conquest!