[vc_row][vc_column][vc_column_text]
Riot Games a révélé qu'ils travaillaient sur de nouveaux changements pour nerf la rune Conqueror dans League of Legends avant le patch 10.13. Les runes de League of Legends peuvent offrir aux joueurs des statistiques bonus comme une vitesse d'attaque supplémentaire, des dégâts ou des soins pour le maintien d'un certain style de jeu au cours d'une partie. Beaucoup de ces runes, y compris Conqueror, exigent que les joueurs rassemblent des « piles » avant de pouvoir déclencher leur passif, en attaquant consécutivement les adversaires sur une courte période de temps, créant une dynamique intéressante dans les combats lorsqu'ils sont activés.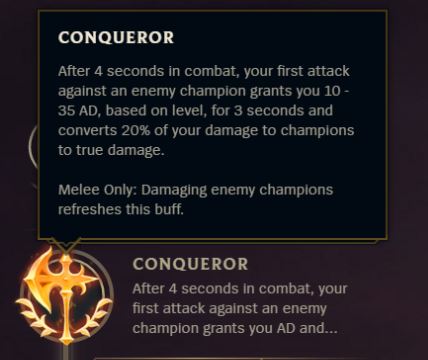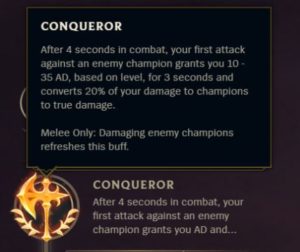 Conqueror est l'une des runes les plus courantes du chemin Precision, car elle peut être utilisée sur de nombreux champions et dans la plupart des rôles de League of Legends .Le passif du conquérant peut fournir aux joueurs des dégâts d'attaque supplémentaires ou de la puissance par pile et lorsqu'il est au maximum, il peut même permettre aux joueurs de se soigner pour un pourcentage des dégâts qu'ils infligent. Cependant, le concepteur de jeu principal de Riot, Mark Yetter, a révélé qu'il testait actuellement de nouveaux changements à la rune pour mettre l'accent sur les longs schémas de combat pour lesquels il était initialement conçu.
We're early testing on some Conqueror nerfs for 10.13

Max stacks 10 >>> 12
Adaptive per stack 2-5 >>> 1.7-4.2

Basically the same value at full stacks but a slightly longer ramp up. Emphasizes the longer fight patterns and less useful on bursty champs.

— Mark Yetter (@MarkYetter) June 6, 2020
Il a révélé que les changements prendraient également une partie de la puissance des champions en rafale en augmentant légèrement le temps nécessaire pour empiler complètement la clé de voûte, ce qui en fait 12 piles maximum plutôt que 10.
[/vc_column_text][/vc_column][/vc_row]