A Thrilling Lineup of Gaming Experiences Awaits PlayStation Gamers,because time Flies When You're Having Fun Gaming. An Exciting Journey So Far, with More Thrills to Come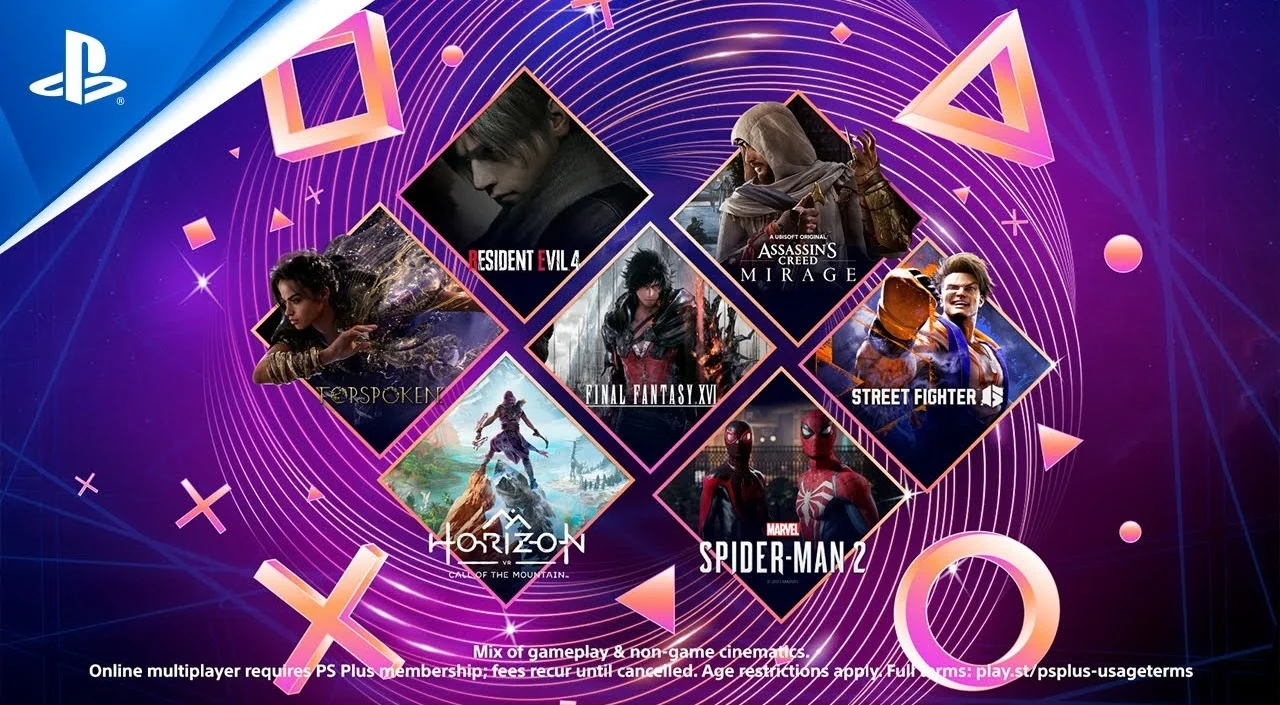 The swift passage of time is undeniable as we find ourselves already beyond the midpoint of 2023. For avid gamers, this year has been nothing short of an exhilarating journey on the PlayStation platform. However, the thrill is far from over, as the latter half of 2023 promises to be just as captivating, boasting an impressive lineup of releases.
Channeling the sagacious words of Samuel Drake, who once remarked, "I always felt that we were destined for something great," we embark on an exploration of the most eagerly anticipated games slated to grace PlayStation consoles throughout the remainder of this momentous year. Stay tuned for an enthralling array of gaming experiences that are sure to leave enthusiasts enraptured and eager to seize what lies ahead.
Step out of the shadows of mere back-row spell-slingers and step into the shoes of a formidable frontline battlemage. Ascendant Studios, a fresh and promising developer, presents an exhilarating fantasy-themed first-person shooter that demands your attention. Embrace the role of Jak, a young prodigy plucked from the depths of the slums and granted the prestigious title of Magnus Battlemage, destined to challenge the oppressive forces of the tyrannical Rasharn.
With a mesmerizing array of magic spells at your disposal, both offensive and utilitarian, prepare to unleash your power upon relentless adversaries while traversing diverse and captivating levels. Enhance and refine Jak's abilities to suit your playstyle by equipping Magic Rings, Sigils, Totems, and Bracers, effectively transforming him into the ultimate magical mercenary.
Delve into a world filled with wonder and imagination, brought to life by impressive worldbuilding and dazzling visuals. As you journey through this extraordinary FPS experience, keep your senses sharp, for numerous secrets lie waiting to be unearthed. Prepare for an enthralling adventure that revitalizes the FPS genre with its innovative approach and captivating gameplay.
Release Date: August 22 | Publisher: Electronic Arts | PS5
Prepare to immerse yourself in the adrenaline-pumping world of From Software's gripping mech combat simulator. As you embark on this thrilling journey, the fate of the partially-ruined planet Rubicon rests in your hands. Take command of your very own Armored Core mech, meticulously crafting it with custom parts tailored to suit your preferred playstyle, whether it be an aggressive assault or agile mobility.
Venture through an array of missions, pitting your skills against rival Armored Core pilots and colossal mecha monstrosities that loom menacingly on the battlefield. Your objectives will be multifaceted and challenging, requiring strategic thinking and precision execution.
A new and formidable weapon in your arsenal is the Assault Boost maneuver, enabling you to close in on enemies swiftly and intimately, staggering them in intense, heart-pounding combat. Each confrontation will demand the utmost skill and strategy, offering a truly immersive experience.
Prepare yourself for a journey filled with suspense and intrigue, as Armored Core VI boasts multiple endings, ensuring that your choices and actions leave a lasting impact on the outcome. Moreover, the realm of customization knows no bounds, granting you endless opportunities to fine-tune your mech and embark on a mission that will define a lifetime.
Release Date: August 25 | Publisher: Namco Bandai | PS5, PS4
As the final year of high school unfolds, a plethora of vivid images and cherished memories flood our minds: the glitz of prom, the symbolism of class rings, the warmth of old friendships, and… an impending extinction? Well, that last one might seem like an anomaly, but it holds true in the uniquely captivating world of Goodbye Volcano High.
This indie gem, fueled by raw emotions and a compelling narrative, transports us back to a time when dinosaurs reigned supreme on Earth.
Contrary to common belief, the young dinos of that era were no different from modern-day humans, grappling with the familiar complexities of teen angst, insecurities, and the peculiar rush of emotions. Through the lens of Goodbye Volcano High, we delve into a realm where these prehistoric beings confront life's uncertainties during their momentous senior year.
Accompany the band VVorm Drama and their loyal companions on an enthralling journey, navigating the rollercoaster of ups and downs that define this pivotal stage in life. The branching narrative, intertwined with rhythm mini-games, ensures that every choice and action has a profound impact on the unfolding events. Brace yourself for an emotionally charged experience that culminates in an Earth-shattering crescendo, promising to leave an indelible mark on your heart and soul.
Release Date: August 29 | Publisher: KO_OP | PS5, PS4
For those yearning for a splendid, classic-style, turn-based RPG that feels like a wish come true, look no further than Sea of Stars. This magnificent creation sets sail from the renowned Sabotage Studios, the brilliant minds responsible for the indie sensation, The Messenger, and intriguingly, it unfolds within the same shared universe.
Embark on an enthralling journey as you accompany the two Children of the Solstice on their quest to harness the power of Eclipse Magic and vanquish the malevolent alchemist known as Fleshmancer. The game treats you to a feast for the eyes with sumptuous sprite-based visuals, teeming with vibrant details and lively animations. These visuals form a perfect backdrop to the strategic turn-based battles, where timed hits, multi-character combo attacks, and a unique locks mechanic to disrupt enemy actions make for a captivating combat experience.
Prepare to be swept away by the charm and allure of Sea of Stars, where nostalgia meets innovation, promising an unforgettable adventure filled with magic, peril, and the triumph of heroes.
Release Date: August 29 | Publisher: Sabotage Studios | PS5, PS4,
The highly anticipated arrival of Larian Studios's Baldur's Gate 3 is finally within reach. As the forces of darkness resurge, the destiny of the Forgotten Realms rests squarely in your hands. However, before you can confront this ominous threat, a vile Mind Flayer parasite has ensnared your body, demanding immediate attention and assistance.
To embark on this perilous adventure, you must gather a reliable band of companions. Whether it be CPU-controlled Origin Characters, carefully crafted companions, or friends from the online realm, their aid will prove invaluable in your quest.
Prepare to immerse yourself in a vast and expansive world, embracing the beloved mechanics of Dungeons & Dragons, an extensive character customization system, and multiple difficulty settings, including the grueling Tactician setting. As you traverse the enthralling narrative, brace yourself for a rollercoaster of wild and unexpected twists.
Baldur's Gate 3 delivers an unyielding fantasy RPG experience that leaves no room for compromise. With its breathtaking scope and gripping storytelling, it promises to transport players into a world of unbridled adventure and unforgettable challenges.
Release Date: September 6 | Publisher: Larian Studios | PS5
Who doesn't relish the thrill of accelerating vehicles and experiencing the exhilarating "vroom" effect? And what if I told you that you could indulge in this passion amidst the mesmerizing tropical splendor of Hawaii? Welcome to The Crew Motorfest, where players are invited to explore the sun-kissed island of O'ahu in an unparalleled, freeform open-world driving adventure.
Prepare for an extraordinary journey as the all-new Playlists feature unfolds before you, offering carefully curated sets of missions that delve deep into various aspects of car culture. Whether you prefer cruising the island in solitude or collaborating with others to conquer challenges in vibrant live events, the options are boundless.
Your automotive dreams will come true as you amass a magnificent garage filled with a diverse array of vintage and modern cars, all at your beck and call. Embrace the freedom to admire and drive these beauties as you please. In this automotive paradise, the world is your oyster, waiting to be explored and savored at the speed of your desires.
Release Date: September 14  | Publisher: Ubisoft | PS5, PS4
In the quest to maintain order and coherence, sometimes a good old-fashioned timeline refresh becomes necessary. That's precisely what Fire God Liu Kang, recently bestowed with this divine role, believed. NetherRealm Studios, known for their illustrious fighting game saga, now presents the latest installment, reuniting both cherished and fresh characters on the tournament stage. This time, they come armed with a new timeline and an array of thrilling innovations.
Among the eagerly awaited features is the return and revitalization of the Air Kombat combo system, promising a thrilling and dynamic combat experience. Additionally, players gain access to the new Kameo feature, allowing them to summon fighters from various Mortal Kombat timelines temporarily, lending their aid in battle.
With buttery-smooth online versus play, engaging in intense one-on-one matches is a seamless experience. Not to forget, the franchise's trademark elaborate fatalities, which remain a defining aspect of Mortal Kombat, are here in abundance.
Prepare for an electrifying and action-packed showdown as the beloved Mortal Kombat franchise continues to push boundaries, delivering a fresh and invigorating fighting game encounter that both veterans and newcomers will relish.
Release Date: September 19 | Publisher: WB Games | PS5
Love knows no boundaries, not even on the battlefield, as Studio Sai's Eternights ingeniously combines romance simulation with heart-pounding action. In the face of an impending apocalyptic disaster, a group of teenagers finds themselves seeking solace in an underground bunker within Seoul. Amidst the chaos, their youthful spirits stir, and the flames of passion burn bright.
Discover a captivating world where in-game apps become your gateway to meeting, conversing, and building meaningful relationships with potential partners. Each character possesses unique personalities that will charm and challenge you. Be mindful, for the choices you make during dialogue will have profound and lasting effects on your journey.
Forge deep connections with your chosen companions, harnessing the power of these bonds to enhance your combat abilities. With courage in your heart and unity by your side, confront the mutated monsters lurking behind the treacherous Wall, standing as a testament to the dangers that lie ahead.
Eternights promises an enchanting blend of emotional depth and intense combat, inviting players to delve into a thrilling narrative where love and valor intertwine amidst the perils of an impending apocalypse.
Release Date: September 21 | Publisher: Studio Sai | PS5, PS4
In the latest installment of the renowned Assassin's Creed saga, players step into the shoes of Basim, a young and resourceful thief eking out a living in the bustling streets of 9th-century Baghdad. Despite his humble beginnings, Basim's latent potential catches the eye of master assassin Roshan, who takes him under his wing and initiates him into the secretive order of the Hidden Ones. Under Roshan's guidance, Basim hones the art of precise and stealthy kills.
This new chapter in the saga introduces revamped character animations and the most extensive range of movement ever seen in an Assassin's Creed game. The result is a seamless and captivating experience as players sprint across rooftops and stealthily prowl the city streets like never before.
Drawing upon an arsenal of tools and aided by the faithful feathered companion, Enkidu, players must utilize the new Assassination Focus skill to methodically eliminate multiple targets in succession, all while staying undetected.
Immerse yourself in this enthralling world as Basim, and embark on a journey that will test your wits, skills, and ability to remain unseen.
Assassin's Creed's latest installment promises a fresh and engaging adventure, where the art of stealth and precision killing takes center stage in the rich and vibrant backdrop of historical Baghdad.
Release Date: October 12 | Publisher: Ubisoft | PS5, PS4
Thirteen years have passed since the mysterious disappearance of renowned horror author Alan Wake, who vanished during his investigation in the tranquil town of Bright Falls, Washington. Now, a seasoned FBI agent named Saga Anderson arrives in this quaint northwestern hamlet to delve into a potential series of serial murders.
As Saga delves into the case, she stumbles upon Alan Wake's lost novel drafts, and that's when things start to take a bizarre turn. The boundaries between fiction and reality blur, leaving her questioning whether the words themselves hold the power to alter the very fabric of the world. And amid all the enigma, the question lingers: Where is Alan Wake?
Prepare to be immersed in Remedy Entertainment's mesmerizing survival horror adventure, where the picturesque Pacific Northwest becomes the backdrop for a mind-bending experience. To decipher the winding narrative, you'll need to take control of both Saga and Alan, maneuvering through the intermingling realms of fiction and actuality, and uncovering the truth that lies beyond the veil of mystery.
Release Date: October 17 | Publisher: Epic Games | PS5
Exclusively on the PlayStation 5, brace yourself for a stunning web-slinging epic featuring two iconic Spider-Men. This thrilling adventure grants you control of the beloved heroes, Peter Parker and Miles Morales, as they navigate the dizzying heights of the Big Apple using their signature web-slinging and clinging abilities. Moreover, with the addition of the new Web Wings, traversing the sprawling metropolis now includes the Brooklyn and Queens areas, promising a broader and more immersive experience.
Within the city's labyrinthine streets, prepare to face some of the comics' most formidable villains, including the relentless Kraven the Hunter and the iconic arch-nemesis Venom. Each Spider-Man possesses unique character skills: Black Suit Peter Parker wields long-reaching tendrils, while Miles Morales harnesses the power of bioelectricity, adding a new dimension to intense enemy showdowns that are grander and more exhilarating than ever before.
As you immerse yourself in this action-packed escapade, be sure to heed your Spider-Senses, for the eagerly awaited release date of October 20th approaches. This is an occasion not to be missed for any ardent fan of the web-slinging heroes and their breathtaking escapades.
Release Date: October 20 | Publisher: Sony Interactive Entertainment | PS5
Like A Dragon Gaiden: The Man Who Erased His Name
In Yakuza 6, Kiryu Kazuma attempted to step away from the limelight, but it appears that the life of a yakuza is something he can never fully escape. Now operating as an undercover agent under the alias Joryu, Kiryu finds himself entangled in the seedy underbelly of Osaka's Sotenbori and Yokohama's Isezaki Ijincho districts, and an enigmatic place known as the Castle.
The action-packed brawls reminiscent of Kiryu's original adventures return, offering the option to switch between two punishing fighting styles: Yakuza and Agent. As you navigate through your missions, you'll also have the chance to indulge in a range of fan-favorite minigames, including a thrilling fighting arena, Pocket Racing, and the captivating Hostess Club management simulation.
Discover the sinister new plot that engulfs Japan's underworld, all the while ensuring your management of the best club in town remains top-notch. In this enthralling tale, it becomes evident that regardless of his efforts, Kiryu's past and the yakuza lifestyle will continue to haunt him, forcing him to confront his destiny once again.
Release Date: November 9 | Publisher: Sega  | PS5, PS4
Avatar: Frontiers of Pandora
Embark once more into the enchanting realm of Pandora, the lush and captivating world featured in the blockbuster movie, Avatar: The Way of Water. This time, you assume the role of a Na'vi who, in their youth, was abducted and raised by the RDA. After finally breaking free from their clutches, you return to your homeland, but the 15 years spent away have left you feeling like a stranger in your own birthplace, now seemingly hostile and unfamiliar.
To aid your fellow Na'vi in their struggle against the RDA's encroachment, you must re-immerse yourself in the ways of your people. The journey takes you to the unexplored Western Frontier of Pandora, where you'll encounter never-before-seen wonders. To navigate this uncharted territory and combat both the perilous natural threats and the destructive forces of the RDA, you'll employ a diverse array of Na'vi and human-made tools.
As you venture forth on this epic quest, you'll discover the resilience and unity of the Na'vi people and their determination to protect their homeland from those who seek to exploit it. Prepare to lose yourself in a world of breathtaking beauty, enthralling dangers, and a battle for survival that will leave an indelible mark on your heart.
Release Date: December 7 | Publisher: Ubisoft | PS5