[vc_row][vc_column][vc_column_text]Sardoche a eu des dérapages au cours de ses streams sur League of Legends. Le streameur francais a perdu le contrôle de ses nerfs a de nombreuses reprises Suite à ce comportement jugé inquiétant, le streamer s'est fait bannir une semaine par Twitch en début de mois, mais ce n'était pas la fin de l'histoire !
Suite a plusieurs messages où il parlait de se faire du mal à lui-même et qui ont commencé à inquiéter ses fans ainsi que d'autres streamers.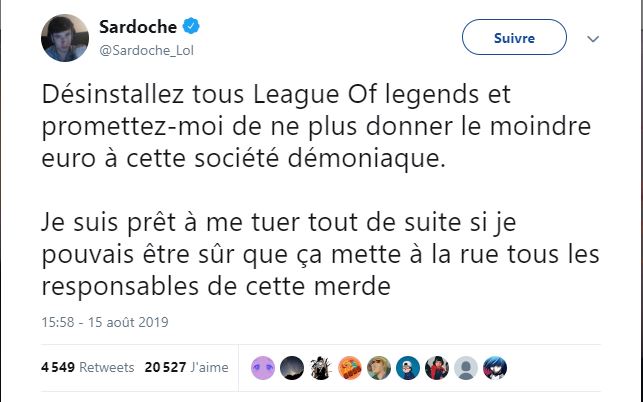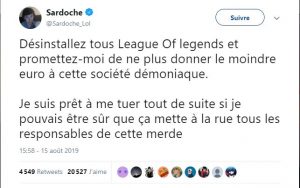 Sardoche s'est fait ban ID 6 mois par Riot. Le streamer a expliqué en live les détails de cette sanction, il pourra continuer à jouer à League of Legends mais il ne pourra pas le faire publiquement. Au moindre live, screen ou vidéo il se fera immédiatement permaban.
Sa communauté a donc lancé un hashtag #FreeSardoche qui a fait son apparition sur Twitter, beacoup de gens on fait tourné le hastagh et parmis eux Bigflo et Oli .[/vc_column_text][/vc_column][/vc_row]