[vc_row][vc_column][vc_column_text]Avant qu'Elon Musk ne devienne obsédé par les voyages dans l'espace et les voitures électriques, il était un enfant qui jouait à beaucoup de jeux vidéo, c'est ce qui a été déclaré par l'ingénieur sud-africain lors de l' Expo (E3) à Los Angeles, Musk a évoqué l'impact des jeux vidéo sur sa vision son parcours et la carrière des ingénieurs du monde entier.
"Part of the reason, maybe the reason, I got interested in tech was video games,"
"Une partie de la raison, peut-être la raison pour laquelle je me suis intéressé à la technologie était les jeux vidéo", a déclaré Musk. "Je n'aurais probablement pas commencé à programmer si ce n'était pas pour les jeux vidéo ou je n'aurais pas été aussi intéressé par les ordinateurs et la technologie si ce n'était pas pour les jeux vidéo. Je pense que les jeux vidéo sont une force très puissante pour intéresser les jeunes enfants à la technologie ; ces jeux ont des effets d'entraînement beaucoup plus importants que les gens ne le pensent. ».


Musk parle d'expérience. À tout juste 12 ans, il a codé et publié un jeu de combat spatial appelé «Blastar», qui a ensuite été vendu 500 $ à la publication spécialisée PC and Office Technology magazine. Il a déjà travaillé dans une startup de jeux vidéo ( Rocket Science). Et bien que ses anniversaires les plus récents aient pu être consacrés à des nuits blanches à Tesla, Musk a célébré son anniversaire en demandant une statue grandeur nature de Vault Boy – le personnage de mascotte fictif du jeu vidéo Fallout. Mais Musk n'est pas le seul à avoir trouvé l'inspiration  et le succès  grâce au jeu. Le lien entre les deux est évident lorsqu'il interviewe ses futurs employés.
"Si nous interviewons quelqu'un pour un poste d'ingénieur logiciel chez Tesla ou SpaceX, nous demanderons souvent :" Comment commencer la programmation ? "",
 «Je pense que bon nombre des meilleurs ingénieurs logiciels du monde ont travaillé ou ont passé une grande partie de leur carrière dans des maisons de jeux vidéo », a déclaré Musk, il aborde aussi la raison qui pousse la résolution de problèmes dans les jeux vidéo a se transforme en résolution de problèmes en génie logiciel. "Si les gens devaient essayer de créer des graphiques incroyablement réalistes en utilisant très peu de puissance informatique, c'est un problème difficile, donc beaucoup de gens devaient écrire du code très serré et trouver des idées vraiment intelligentes pour le faire." Pour l'équipe de Musk chez Tesla, les graphismes améliorés des jeux vidéo leur permettent de mieux simuler les voitures autonomes à l'aide de l'intelligence artificielle. Il charge son équipe de simulation de créer un monde photoréaliste de ce qu'il dit être certaines des choses les plus ennuyeuses : marques de dérapage sur la route, courbes en béton, ombres et lignes de rues fanées. Ces simulations ont été essentielles au développement des voitures à pilote automatique, dont le déploiement est prévu pour l'année prochaine. Il a également crédité le jeu vidéo Cyberpunk (ainsi que le film "Blade Runner") comme source d'inspiration pour la camionnette Tesla.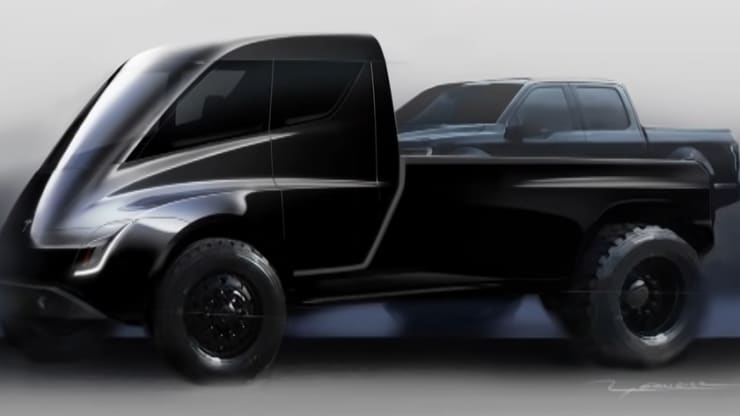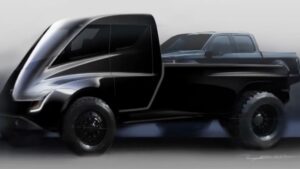 Source : www.cnbc.com
Elon Musk serai aussi fan d'RPG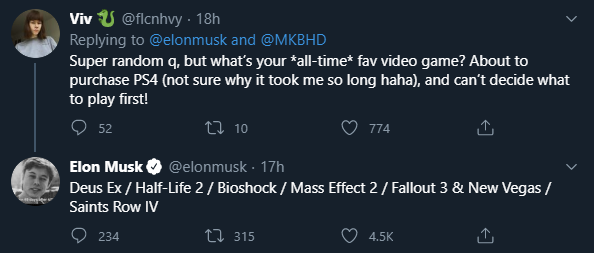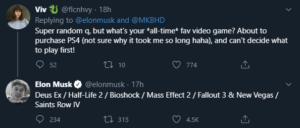 [/vc_column_text][/vc_column][/vc_row]